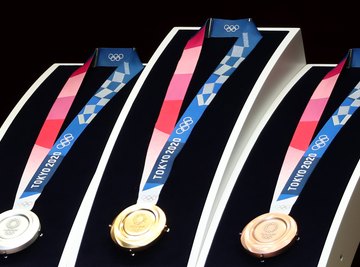 •••
BEHROUZ MEHRI/AFP/GettyImages
When athletes stand on the podium at the 2020 Olympic Games in Tokyo, they will receive medals made from recycled phones. After a nationwide competition, the organizing committee announced Junichi Kawanishi's medal design as the winner. The Tokyo 2020 Medal Project helped collect small electronic devices like phones to obtain recycled metals.
Turning Old Phones into Medals
During the 2020 Olympics, the organizing committee expects to hand out about 5,000 medals. Although they're made from recycled electronics, the medals don't look different on the surface. They're still gold, silver and bronze circles with ribbons. Athletes probably wouldn't even notice that their Olympic medals are made from recycled materials.
The Tokyo 2020 Medal Project focused on sustainability and creating environmentally friendly medals for the Olympic Games. From April 2017 to March 2019, they collected small electronic devices, such as phones, all over Japan for recycling. They gathered 78,985 tons of devices, and 6.21 million of the devices were used mobile phones. More than 90 percent of Japan's municipalities participated in the recycling efforts.
After collecting the used electronics, contractors took them apart, extracted the valuable metals and refined them. They were able to collect 32 kg of gold, 3,500 kg of silver and 2,200 kg of bronze. This allowed them to make 100 percent of the Olympic medals for 2020 from recycled materials.
Recycling Electronics
The 2020 Olympic medals have highlighted the importance of recycling electronics and the growing problem of e-waste, or electronic waste. The United Nations estimates that people created 44.7 million metric tons of e-waste in 2016. From televisions to smartphones, landfills are full of old and discarded devices that no one wants.
The United Nations points out that only 20 percent of the e-waste from 2016 was recycled. Not only do devices contain valuable metals like gold that can be reused, but they also have harmful substances such as mercury that can leach into the soil and water. Although more cities are requiring the recycling of devices, not everyone complies with the rules.
One of the main reasons why people don't recycle is they don't know where to drop off their devices. However, companies like Call2Recycle are trying to make it easier for people to find drop-off locations for their electronics. If you have an old phone or computer, check the recycling programs in your city. Another option is to donate the electronics to nonprofit groups or charities in your area that can reuse them.
Sustainability at the 2020 Olympic Games
Medals made from recycled metals are part of a larger plan to make the 2020 Olympic Games more sustainable. The motto is "Be better, together – for the planet and the people," and the organizing committee has started multiple initiatives to fulfill it.
Some of the plans include making Japanese uniforms and podiums from recycled plastic bottles. The organizing committee is encouraging citizens to collect and donate their plastic packaging for the podium project. About 2,000 retails stores have collection boxes for the plastic. They also plan to use some of the salvaged ocean plastic waste to make the podiums.
The Tokyo organizing committee plans to reduce food waste by limiting unnecessary packaging and recycling as much as possible. They plan to use 65 percent of reusable materials in foodservice. They also plan to conserve water by using filtration, rainwater and recycled water. The goal is to use only renewable energy sources, like solar panels, for the entire Olympic Games. Tokyo wants the 2020 Olympics to be the most eco-friendly in history.
References
About the Author
Lana Bandoim is a freelance writer and editor. She has a Bachelor of Science degree in biology and chemistry from Butler University. Her work has appeared on Forbes, Yahoo! News, Business Insider, Lifescript, Healthline and many other publications. She has been a judge for the Scholastic Writing Awards from the Alliance for Young Artists & Writers. She has also been nominated for a Best Shortform Science Writing award by the Best Shortform Science Writing Project.