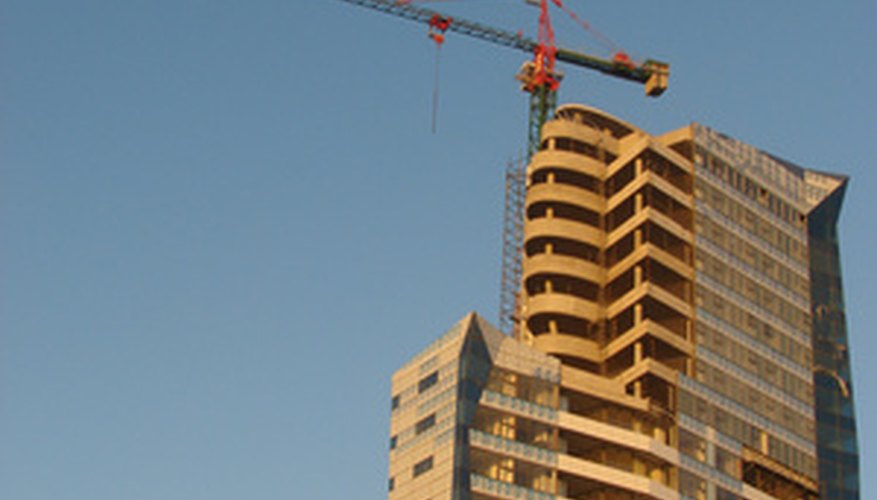 building it image by Vanessa van Rensburg from
Fotolia.com
Construction is a set of correlated and co-dependent processes involved in assembling or building structures. Successful construction projects are based on well-designed plans and effective project planning. Those involved in the construction process establish the availability of material, the environmental impact of the construction project, budgeting, logistics, legal aspects and safety issues.
Building Construction
Building construction is the construction or renovation of building foundations, columns and walls, lintels, floors, roofs, lifts/stairs, finishing work (painting and plastering), building services (sanitation, electrical works, drainage and water supply) and external works (external walls and/or fencing). According to "Building Construction," buildings are broadly divided into the superstructure, the substructure and the plinth. The plinth serves as a dividing line between the foundation of a building (substructure) and the building itself (superstructure). All construction projects, both small and large, have some common elements. These include financial considerations, legal considerations and the design of the building. Building construction is classified into types I-a, -b, II-a, II-b, III-a, III-b, iv, v-a and v-b, depending on the materials used and their flammability. Building construction includes residential structures, hotels, towers and apartment blocks.
Civil/Heavy Construction
Civil or heavy construction involves adding infrastructure to local or national construction. It includes the construction of harbors, railroads, golf courses, dams, earthwork projects, bridges, canals, roads and highways. Civil construction is divided into various disciplines, including structural engineering, environmental engineering, urban engineering, geotechnical engineering, material engineering, coastal engineering and water-resources engineering.
Industrial Construction
Industrial construction is the construction of cement, chemical, production-process lines, manufacturing facilities, power, gas, oil and paper industries. Sub-processes include the assembly of heavy equipment and its installation, pipe installation, rigging and scaffold erection. Industrial construction projects are employed by various industries, such as petroleum, power generation, medicine and chemical. Highly specialized teams transition computer- or paper-based blueprints and processes into reality. Industrial construction teams work closely with cost engineers, accountants and mortgage bankers. They participate in creating a financial management plan for the construction of the required industrial facility. Industrial construction projects must follow appropriate building and zoning code requirements. Projects that fail to adhere those laws lead to legal and financial implications for the business owner. Industrial projects are designed such that they can be accomplished on time with no cost delays.