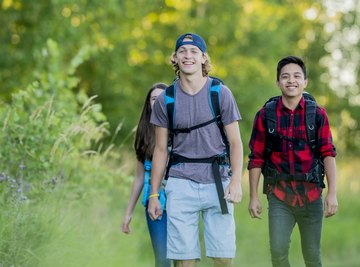 •••
FatCamera/E+/GettyImages
School's out, the sun's shining and the pool is calling your name. But if you have more on your mind than getting the perfect tan, there are plenty of ways to stay engaged with science even after classes are over.
Making time for self-paced science education during the summer gives you a chance to explore the fields of science you like the most, and maybe get a glimpse into what you might like to do as a career. It also keeps you in the study mindset, so you don't have classroom culture shock when you head back to school in the fall.
Best of all, summer "study" doesn't have to be too formal, involve tedious memorizing or even require time on your computer (unless you want it to). You can do summer sciencing at your own pace.
Take a Nature Hike
If the summer sun's calling your name, give in. A day in the great outdoors is also a fantastic opportunity to learn more about the world around you. Head out for a nature hike on your favorite path with a field guide and notebook in tow, along with a pair of binoculars if you have them.
Use the guide to identify flowers, plants, insect or bird life you see, and document your findings. Check out how the scenery changes as you hike from an open field into a forest, or the animals you see in the early morning compared to the afternoon.
Go to the Zoo
If a hike in the woods isn't quite your cup of tea, why not head to your local zoo instead? While zoos generally won't show animals in their natural habitat, they do give you the opportunity to see new animal species and learn more about animals from around the world.
While you'll learn a lot if you show up and stroll around, you'll get the best experience if you check out the zoo's website beforehand. Most zoos will offer live tours or feeding demonstrations — check out when the best ones are happening, and plan your trip around those.
Volunteer at a Science Camp
Most science camps cater to younger kids, but even if you're too old to be a camper, you can learn a lot as a volunteer. Helping out around camp could give you a glimpse into how the staffers set up demonstrations and experiments, which can help you when you're doing experiments later in class. And who knows? You might just learn something entirely new.
No science camp in your area? Try volunteering as a summer tutor, instead. Teaching students scientific concepts — even if they're ones you were taught years ago — helps you more fully understand them. Tutoring could fill in any gaps in your knowledge, and help you earn a few bucks too.
Take a Self-Study Course
If you're missing the feel of the classroom, sign up for a free online science course. While it might be too late for more structured summer courses, online classes help you pick up new concepts at your own pace, so you can study over the summer without feeling like you're still in school. Try Alison.com for high school-level classes, or Coursera for university-level ones.
About the Author
Sylvie Tremblay holds a Master of Science in molecular and cellular biology and has years of experience as a cancer researcher and neuroscientist. Before launching her writing business, she worked as a TA and tutored students in biology, chemistry, math and physics.