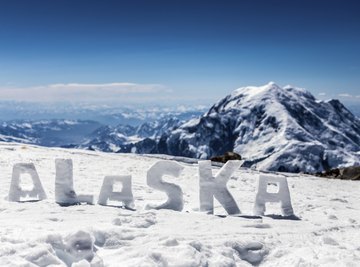 •••
frontpoint/iStock/Getty Images
Yes, everything you've heard about wind-chill and extreme temperatures is probably a gross understatement, but the beauty of Alaska in the winter is worth it. Plus, fares are lower and camping spots easier to come by.
1. Northern Lights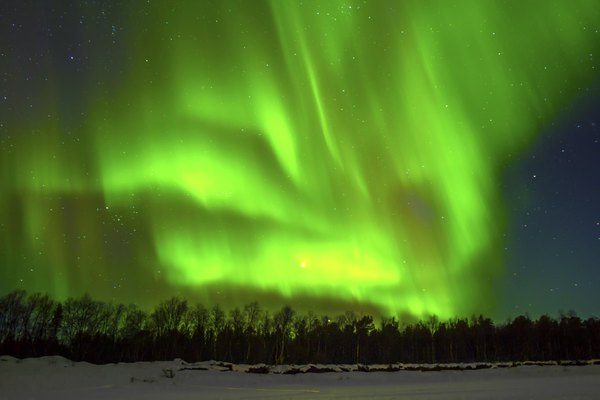 •••
Meinzahn/iStock/Getty Images
Northern lights or aurora borealis appear year round but they cannot be seen when the sun shines, as it does night and day during Alaskan summers. The velvet night sky is perfect for showcasing the display, and central Alaska -- directly under the auroral oval -- is the best place in the country for viewing this natural wonder. Locals say November takes top prize for viewing, but any month between October and May presents possibilities to glimpse a stunning display. Head north out of Fairbanks to avoid the interference of city lights. Many hotels offer northern-lights wake-up calls to alert you when the show starts. Green light is most common but you might also glimpse yellow, red, blue or purple.
2. Dog Sled Races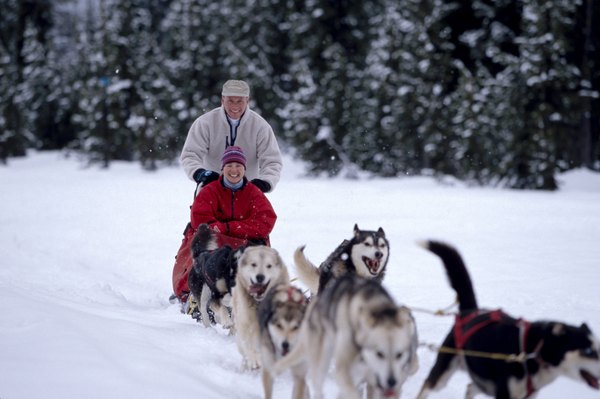 •••
Ingram Publishing/Ingram Publishing/Getty Images
If baseball is America's sport, dog mushing is Alaska's. It's a tradition in the Great Land, where dogsleds were common transport in the bush communities before the era of snow-machines. But it's also an obsession, evidenced by the immense popularity of the 1,150-mile Iditarod dogsled race from Anchorage to Nome every March. Even if you come as a race spectator, don't hesitate to experience the rush of the mush for yourself. Sign up for an afternoon dogsled outing or, better yet, spend a week in a guided sled-packing trip to the bush. Either way, winter's the only season for an Alaska dog-sledding adventure.
3. Hot Springs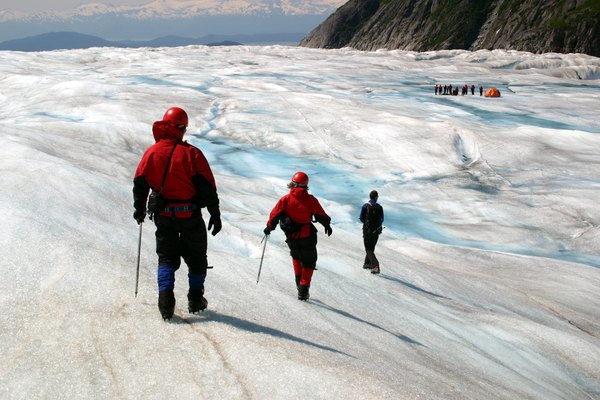 •••
Kyle Maass/iStock/Getty Images
Hot springs are always gloriously decadent, but never more so than when ambient temperatures drop well below zero and snow drifts pile high as goose-down quilts. The hot spring water is heated deep within the earth; it seeps to the surface through bedrock cracks here and there around the state. Interior Alaska's hot springs range from remote, Kanuti Hot Springs on the Dalton Highway (hike in and out on narrow trails) to the international mecca of Chena Hot Springs north of Fairbanks, where the well-heeled from around the world sprint in bathing suits across frozen ground from changing booths to a 142 degree Fahrenheit pool. Chena offers visitors cabins or hotel rooms and dining facilities, as well as a prime viewing location for the northern lights. The more adventurous try Manley Hot Springs on the Elliot Highway, offering excellent springs at a very low cost, plus basic accommodations in the village.
4. Aurora Winter Train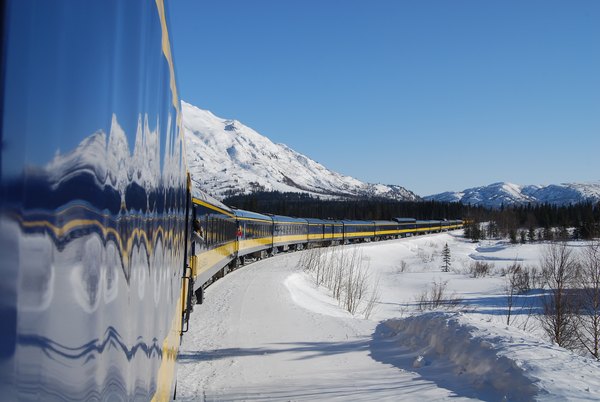 •••
Miriam Ramos/iStock/Getty Images
The Alaska Railroad runs its popular trains from Anchorage to Fairbanks all year round, but the full-day trip turns into a gorgeous adventure when the ground is covered with snow. The Aurora Winter Train chugs back and forth on weekends from September through mid-May, allowing passengers to embark or debark at stops along the way, including Talkeetna, Denali National Park and Nenana. Reserve in advance online or by phone so that you won't be disappointed. You'll press your nose to the window much of the time as you slip through the serene, snow-covered Alaska interior, but when hunger strikes, head to the dining car for breakfast, lunch or dinner.
5. Denali National Park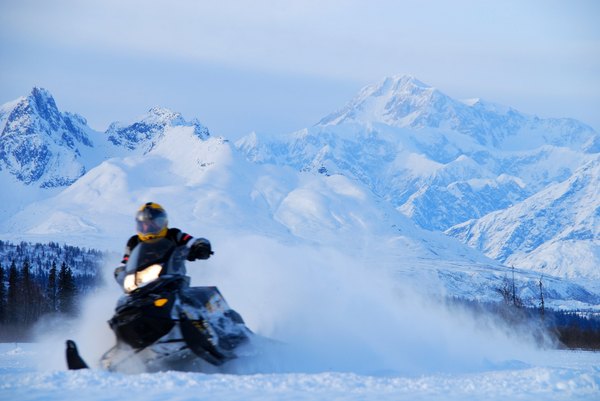 •••
Justin Matley/iStock/Getty Images
Denali National Park attracts hordes of summer visitors, but winter in the park is a special treat. Winter camping in Denali is free, whether you opt for Riley Creek Campground near the park entrance or hike back into wilderness. The rangers open areas of the vast park to snowmobiling, cross-country skiing and dog mushing, exciting adventures all when set against such a backdrop. Find out what else is going on by visiting the Murie Science and Learning Center; it functions as the winter visitor center. It you're up north in February, don't miss the three-day Winterfest Celebration, with food, music, and cool demonstrations like ice-sculpting, dog mushing and nature photography.
6. Glacier Climbing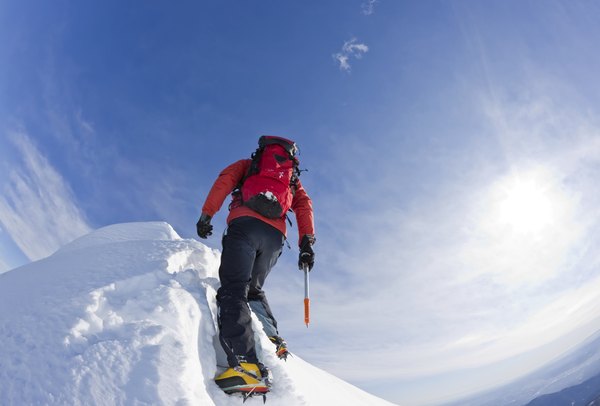 •••
ROBERTO CAUCINO/iStock/Getty Images
Visit Wrangell-St. Elias National Park and Preserve to discover more glaciers that you can climb in a lifetime. The 13-million-acre gem of a park, located east of Anchorage along Alaska's border with Canada, is a great spot for a guided ice climbing adventure; but it's not the only option in a state with some 100,000 glaciers. Impassioned ice climbers even scale frozen waterfalls near Valdez for extra thrills. You'll need equipment including crampons, harnesses and picks, and a good guide if you are inexperienced. Prepare yourself for blue ice; glacier ice is so densely compacted that it absorbs most colors, leaving the surface below your feet a stunning sapphire blue.
7. Skiing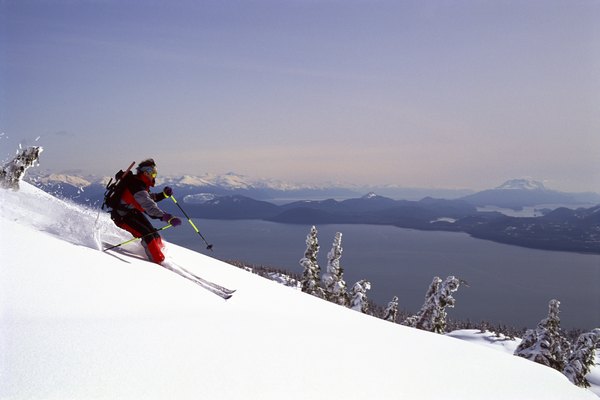 •••
Comstock Images/Stockbyte/Getty Images
With so much snow for so many months, it's no surprise that Alaska offers exceptional skiing in areas of pristine beauty. Traditional folks might prefer traditional ski resorts like Girdwood's Alyeska Resort near Anchorage or Juneau's Eaglecrest Ski Area. But that's just the beginning of the possible. Explore local lifts like those at Moose Mountain in Fairbanks, or try backcountry skiing at Thompson Pass near Valdez. Even more exciting, get the double rush that comes from heli-skiing in Valdez and Cordoba in the south or Juneau and Haines in the southeast. You can strap on cross-country skis virtually anywhere in the state during snowy months and write your own adventure. If that seems a step beyond your ken, Anchorage's Tony Knowles Coastal Trail offers groomed cross-country trails.
References
About the Author
From Alaska to California, from France's Basque Country to Mexico's Pacific Coast, Teo Spengler has dug the soil, planted seeds and helped trees, flowers and veggies thrive. World traveler, professional writer and consummate gardener, Spengler earned a BA from U.C. Santa Cruz, a law degree from Berkeley's Boalt Hall, and an MA and MFA from San Francisco State. She currently divides her life between San Francisco and southwestern France.
Photo Credits
frontpoint/iStock/Getty Images