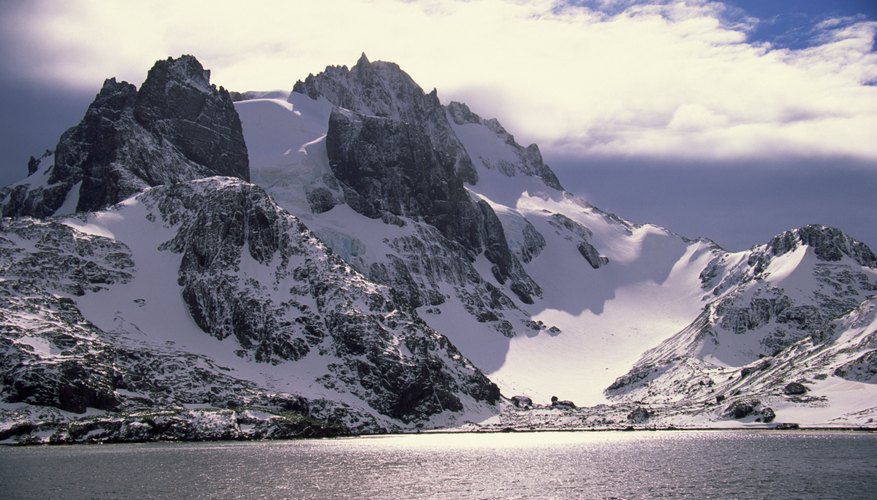 The Artic and the Antarctic regions of Earth have many similarities and differences. No known record of native humans exists on Antarctica, yet humans have existed near the North Pole for centuries. Both polar regions have active volcanoes. There are many other abiotic and biotic factors in the polar regions of Earth.
Abiotic Factors At The North Pole -- Arctic
The polar regions of the Arctic are about 21 million square miles of land, ice and water. Temperatures in the Arctic average below zero in the winter and about 35 degrees in the summer. The Arctic receives approximately 100 inches of precipitation a year, mostly snowfall. While winter in the Arctic is long, lasting eight or nine months, summer is relatively short, lasting only two. There is no real fall or spring. Because the arctic soil only thaws a few inches each year during the summer months, trees cannot grow.
Biotic Factors At The North Pole
Many animals live in the Arctic, although no trees grow there, and plants grow only a few inches high. There are large land mammals such as polar bears, musk oxen and caribou. There are also whales, seals and walrus. In addition, people have been living in the north polar region for thousands of years, having crossed ice covered bridges to lands during prehistoric times. Approximately 13 million people live in the Arctic region, spread over Canada, Alaska and Russia.
Abiotic Factors At The South Pole
Antarctica is a frigid polar desert. There is almost no precipitation. Most of the continent receives less than a half an inch a year of rain. The wind blows nearly all the time, and can gust up to 70 miles an hour. Winds average at the South Pole from 10 to 50 miles an hour. The average annual temperature in Antarctica is minus 54 degrees, much colder than the Arctic. The South Pole receives constant (but dim) sunlight for six months of the year, and is in darkness for the other six months of the year, which means that there is almost no growing season.
Biotic Factors In The South Polar Region
While there are many large land mammals in the Arctic, there are none in Antarctica. The only large mammals in the South Polar region are in the ocean. As in the Arctic, there are large whales, porpoises, and seals in the waters around Antarctica. There are only a few plants that can grow small and close to the ground that can survive the harsh climate. Antarctica, unlike the Arctic, has no history of prehistoric crossing, and no history of native settlement anywhere on the continent. There are no permanent residents on Antarctica. Everyone who lives on the South Pole is there on a temporary basis to conduct research.