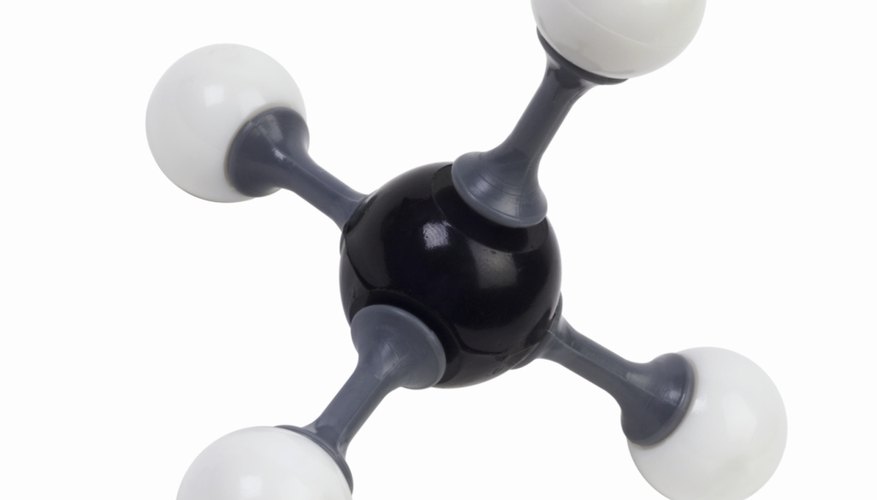 George Doyle & Ciaran Griffin/Stockbyte/Getty Images
All organic compounds contain carbon as their primary constituent. Carbon atoms form the backbone that bonds to other atoms including hydrogen, nitrogen, oxygen and sulfur. Carbon also bonds to the halogens: florine, chlorine, bromine and iodine. Carbon atoms are the basic building blocks of life, and energy-rich organic compounds are important in all life processes.
Terrestrial
The most abundant organic compound in the terrestrial environment is cellulose. A type of carbohydrate, cellulose contains chains of glucose rings. Providing strength and rigidity, cellulose forms the cell walls of plants. Cellulose is the primary constituent of wood, making this organic compound the most abundant one on the surface of the Earth. Cellulose is difficult to digest but holds promise for advancing the development of biofuels.
Atmospheric
The most abundant organic compound in the Earth's atmosphere is methane, a greenhouse gas implicated in climate change. Sources of atmospheric methane include enteric fermentation (digestion in livestock), wetlands, rice paddies, burning of biomass (forest fires), termites, landfills, the ocean, freshwater ecosystems, gas hydrates, coal mining and gas drilling -- venting and transmission. In 1988, the total annual production of methane was estimated at about 540 teragrams (595 million tons).
Oceanic
Phytoplankton are the primary producers of organic compounds in the ocean. These tiny, single-celled organisms live near the surface of the water and undergo photosynthesis, transforming inorganic carbon into organic compounds. Taking up carbon dioxide, they release as much oxygen into the atmosphere as terrestrial plants. An important component of the Earth's carbon cycle and climate system, when phytoplankton dies it sinks, carrying carbon to the bottom of the sea.
Pedospheric
Soils are composed of organic compounds important for biological processes. Only making up a fraction of the outermost layer of the Earth's surface, or pedosphere, organic compounds form the basis for life in the terrestrial environment. Organic compounds hold soil particles together to reduce erosion and minimize compaction, improve the storage and transport of air, nutrients and water that supports plant growth and growth of decomposing organisms within the soil. Organic compounds also reduce the toxic effects of pollutants and retain atmospheric carbon.