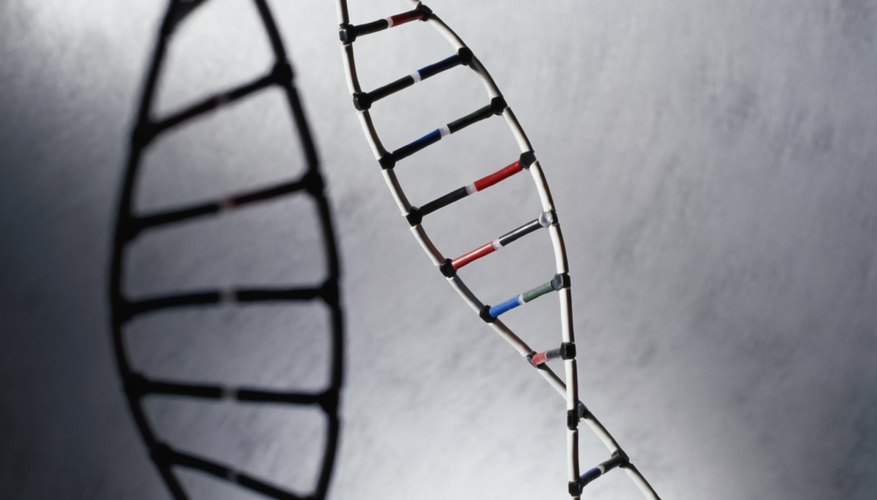 Photodisc/Photodisc/Getty Images
The packaging of DNA in eukaryotic nuclei is done for several reasons and brings a lot of advantages to the eukaryotic cell. This phenomenon is only observed in eukaryotic cells, which have a full set of organelles. Prokaryotic cells emerged earlier on the evolutionary tree and do not have organelles, including nuclei. There are several advantages to packing DNA into nuclei.
A Matter of Space
The first reason for this is extremely straightforward and simple. When fully stretched out, a DNA strand in just one cell is 2 meters -- 6.5 feet -- long. Since the diameter of the typical cell is only 10 micrometers wide, packaging is just necessary to even fit it in the cell. Even after it's fitted into the cell, it's compacted even more in a process called supercoiling, so there's more room for all of the other components of the nucleus.
Mitosis/Meiosis
When cells divide, it is important that half of the parent cell's DNA goes into each new daughter cell. Organizing DNA into chromosomes allows organization and a clean split during anaphase. Splitting chromosomes occurs once in mitosis, and twice in meiosis. Failure to split evenly results in malfunctioning daughter cells, and missing or extra sex chromosomes in meiosis. This leads to people having a extra chromosome or only one X chromosome, causing lifelong diseases.
Heterochromatin
This is the highly packaged DNA, so compact and sequentially repetitive that it's virtually genetically inactive. However, it helps gene expression in some cases and even protects the genome. If it weren't for this tight packing and structural support, chromosomes would deteriorate.
Access to DNA
Once tightly wound by histones, which are circular proteins -- think of a spaghetti and meatballs metaphor -- the nucleosome, a protein with DNA, regulates interactions with proteins in the nucleus to control gene expression and optimize cell development. Without this packing, the cell would mistake loose DNA as a viral intruder and would send defenses against the "virus," even though the DNA is from the cell. So packing is also needed just for successful translation.