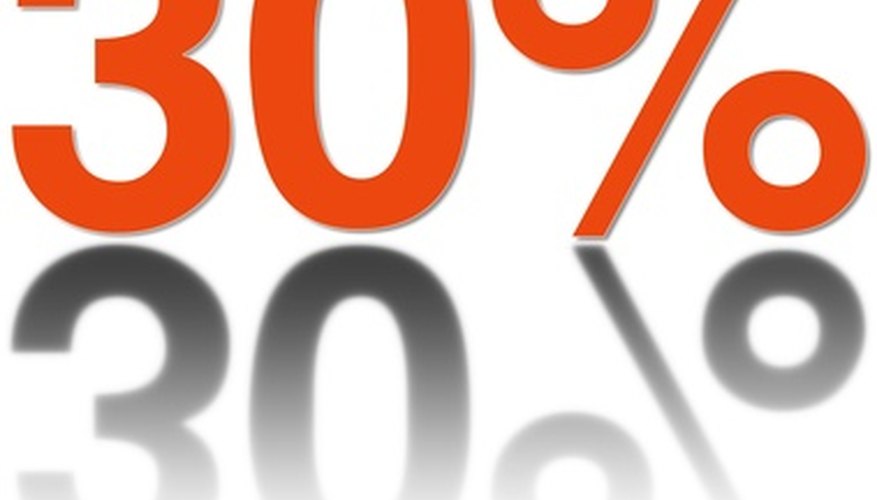 When you are in a store and selecting an item to purchase, the price on the tag might not be the final amount you pay. For example, you might have to add a percentage for sales tax. A percentage is the top part of a fraction when the bottom part is 100. Also, if a store announces that prices will rise next week by a certain percentage, you can calculate next week's price. Stores also add a percentage to the wholesale costs they pay, to know how much to charge retail customers and make a profit.
Write down the current price. For example, an item's price is listed as $75.
Write down the percentage that needs to be added. For example, there might be a sales tax of 8 percent. The final cost of this item will be $75 plus 8 percent of $75. You cannot add dollars and percentage, so you have to convert the percentage to dollars.
Divide 75 by 100 to get 0.75. Multiply 0.75 by 8 to convert the 8 percent into $6.
Add the price of $75 to the percentage converted to $6 to get the final cost of $81.
Use the same procedure if you are a retailer. For example, you purchase an item for $60 from a wholesaler, and you know that you need to charge 35 percent more to make a profit after taking into consideration all the costs of doing business, such as paying employees and leasing the property. Divide 60 by 100 to get 0.6. Multiply 0.6 by 35 to convert the 35 percent into $21. Add the wholesale cost of $60 to the percentage, converted to $21, to reach the retail price of $81.