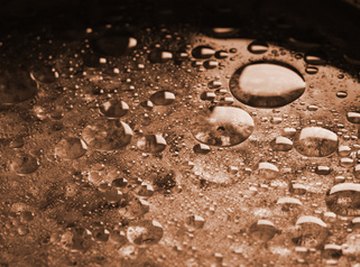 •••
Abstract image of oil drops in water image by George Dolgikh from Fotolia.com
If two of your friends mix like oil and water, and you invite them both to a party, things could get awkward. Oil and water are immiscible, which means they don't mix. If your friends have to stay in the same room, they'll probably end up on opposite sides, glaring at each other. This is essentially what happens when you add oil to a container of water: The oil and water molecules stay apart, and because oil is less dense, the oil molecules gravitate to the top of the container and leave the lower part of the container to the water molecules.
Add soap to a mixture of oil and water, however, and things are different. Soap acts like a third person who is on good terms with both of your friends and can make them feel comfortable enough to stay in the same room. Soap doesn't make oil dissolve in water, but it helps break the oil molecules into smaller ones that can disperse in water.
How Soap Mediates Between Oil and Water
When two hydrogen atoms combine with an oxygen atom to form a water molecule, the hydrogens migrate to one side of the oxygen, creating a charge difference between the two sides. Water molecules electrostatically attract each other to form a hydrogen bond, which isn't as strong as the covalent bond holding the molecules together but is still quite strong. Water will mix only with other polar molecules or charged ions with an electrical attraction sufficient to break, or at least modify, this hydrogen bond.
Oil molecules are much larger than water molecules, and more important, they don't have a polar charge. When you pour oil into water, the oil molecules can't coax the water molecules away from their hydrogen bond, so the oil molecules clump together and form large globs that migrate to the surface, where they form a separate layer.
The soap molecule structure is a long string of hydrocarbons with one uncharged end and the other end ionic, or charged. The soap molecule is hydrophilic and hydrophobic, meaning that it is both attracted to and repelled by water. Because the uncharged end mixes with oil, and the charged end mixes with water, soap molecules can break the oil molecules into smaller ones and allow the water molecules attached to them to surround the smaller oil fragments, creating an emulsion.
Oil, Water and Soap Experiment
You can see this dynamic in action by pouring vegetable oil into a glass of water. Note how the oil forms beads that migrate to the surface. You can break these beads apart by shaking the glass, but as soon as the shaking stops, the beads reform and the oil rises again.
Now add a few squirts of dish soap and shake again. This time, the mixture will become cloudy. The cloudiness occurs because the soap breaks the oil molecules into smaller fragments and disperses them throughout the solution. The oil didn't dissolve in the same way that salt dissolves in water; the molecules are just too small and scattered too far apart to form into clumps, but they will regroup if you let the container stand overnight.
Soap Cleans Greasy Dishes
A useful oil and water experiment conclusion is that trying to clean greasy and oily dishes with water alone is bound to fail, because the oil won't mix and will stay on the dishes, no matter how much water you use. Hot water helps, but only a little. You need soap to do the job right, because soap breaks the oil molecules apart and allows the water molecules to surround them, so they will wash away.
References
About the Author
Chris Deziel holds a Bachelor's degree in physics and a Master's degree in Humanities, He has taught science, math and English at the university level, both in his native Canada and in Japan. He began writing online in 2010, offering information in scientific, cultural and practical topics. His writing covers science, math and home improvement and design, as well as religion and the oriental healing arts.
Photo Credits
Abstract image of oil drops in water image by George Dolgikh from Fotolia.com