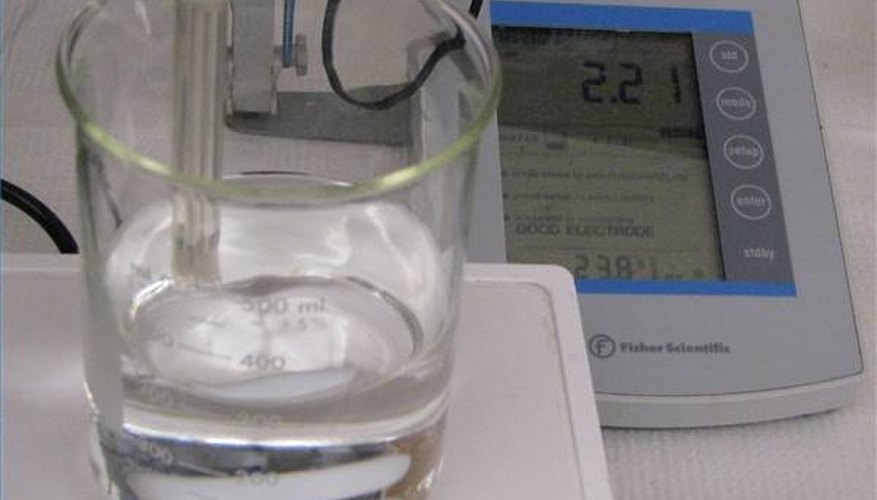 Concentration of hydrogen ions H+ expressed as pH determines acidity of a solution. pH influences the course of chemical reactions and biological process. The majority of such processes occur in buffer systems that tend to keep pH nearly constant. Nevertheless it could be changed by adding strong acids (e.g. HCl) or bases (e.g. NaOH). It is a frequent laboratory practice to adjust pH (usually within 1 to 3 units) of a buffer system to match it with particular experimental needs. pH adjustments require precise monitoring of the solution acidity that is typically achieved by using laboratory pH meters
Place a stir bar in the beaker with the solution. Put the beaker on the magnetic stirrer and turn it on to start solution stirring. Note: you must continue stirring during the entire procedure.
Place the glass electrode of the pH meter in the solution and wait 20 to 30 seconds. Read the pH displayed by the instrument.
Compare the current pH of the solution (Step 2) with the target value. If pH is higher than the desired one you need to use hydrochloric acid solution for the adjustment. On contrary, if pH is lower that it should be, you need to use the solution of sodium hydroxide. For example, pH determined in Step is 8.75 while the buffer final pH should be 7.5. Since 8.75 is higher than 7.5 you need to use hydrochloric acid.
Fill in the plastic pipette with either hydrochloric acid or sodium hydroxide solution.
Add 3 to 5 drops from the plastic pipette to the solution in the beaker. Wait 20 to 30 seconds.
Read the value displayed by the pH meter and compare it with the desired pH. You should see a pH change towards the target value.
Repeat Steps 5 and 6 until pH of the solution reaches the designated value.
Switch off the magnetic stirrer and take off the pH glass electrode.
Warning
Always wear protective gloves and goggles when work with sodium hydroxide and hydrochloric acid solutions.