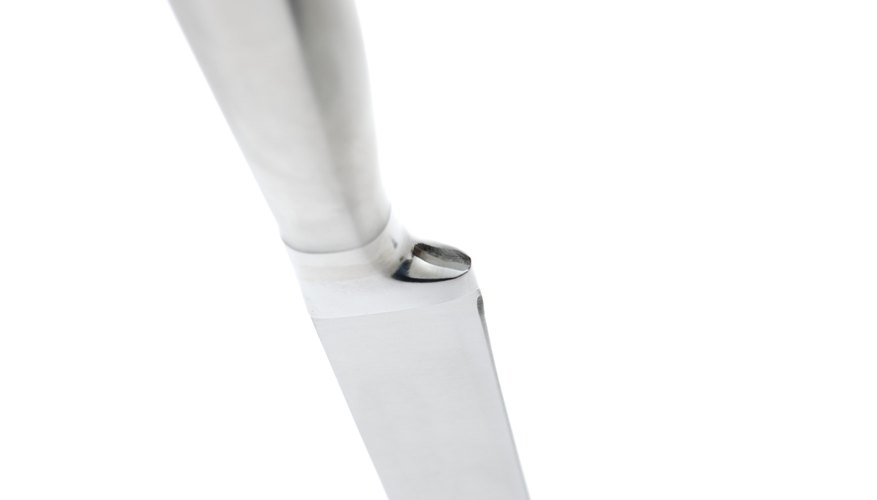 BananaStock/BananaStock/Getty Images
All knives are different in design, handle, and shape of the blade. One important difference is the compound the steel it is made of. Different steels have different working properties, and knifemakers look for the perfect alloy that accomplishes everything. Alloy is a mixture of metals. Realistically, there's no one perfect steel alloy for all knife blades, but chrome vanadium steel, or CV, comes close.
Edge-holding Advantage
Different steels have different edge holding capabilities. Chrome is a very hard metal, and adds hardness to steel. Vanadium is a brittle metal, adding toughness. Adding chrome and vanadium to steel in the right amounts gives steel hardness as well as strength. The end result is a steel that holds an edge but doesn't go dull after repeated use. If you have a knife that dulls quickly, it's not CV steel.
Flexibility Advantage
CV steel is very flexible. The University of Toledo states CV is used for automobile springs and connecting rods where a durable steel that is not brittle is required. A CV knife's advantage is that it's almost like a spring, easily bendable without breaking. For example; a fillet knife must follow a bone closely, so it must bend without breaking. A CV filet knife does this. If a knife is not made out of CV, it breaks easily when bent because its too brittle.
Rust-resistance Advantage
Both chrome and vanadium are non-rusting metals. A knife blade made out of CV does not rust as easily as knives made with other steel alloys. Rust resistant, however, does not mean rust-free. The knife must still be dried and lightly oiled to prevent rust formation. However; it can air dry, as opposed to hand-drying after washing.
Strength Advantage
CV is stronger than many other steels, such as a plain carbon steel. For example; meat cleavers have to be strong, and able to split through bone like a hatchet. If the same force is applied to a "cheap" cleaver as a CV cleaver, the cheap steel cleaver will break. Also, if a serrated knife has to cut through bone, a CV steel knife will not break or chip teeth.