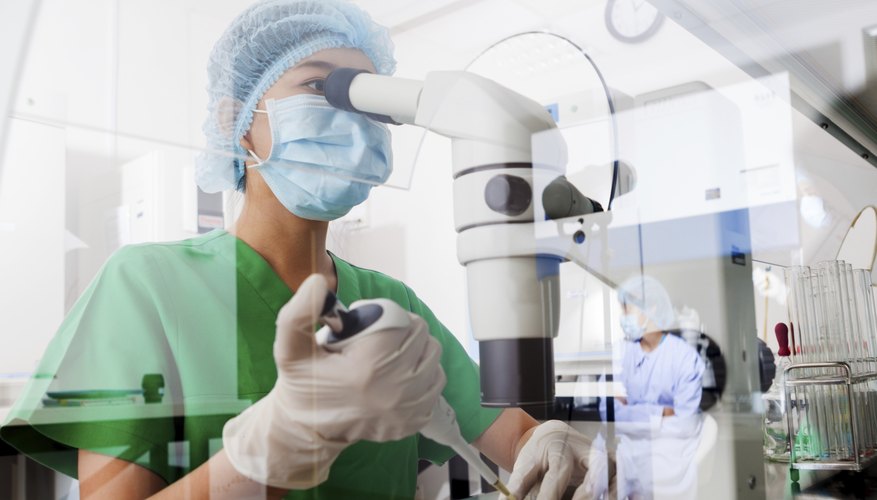 DragonImages/iStock/Getty Images
Research on embryonic stem cells, or ESCs, is an attempt clarify and find treatments and cures for human diseases using unique cells created with modern biochemical methods. Stem cells are distinguished from other cells on the basis of their versatility -- they are unspecialized and can develop into many different cell types depending on their physical environment and the kinds of artificial stimuli they are given. Compared to adult stem cells, ESCs have a wider and ever-expanding range of applications.
Embryonic Stem Cell Basics
In adults, stem cells in tissues such as bone marrow, brain and muscles arise naturally and grow into specialized cells in those areas to replace cells lost through everyday wear and tear. ESCs, in contrast, are grown in vitro -- that is, in test tubes, such as from embryos destined for artificial insemination procedures. Scientists first developed the process of deriving stem cells from embryos using mice in 1981. ESCs' singular regenerative abilities have made them the centerpiece of studies aimed at learning more about how cells specialize and mature in general.
The Potentiality of ESCs
All body cells can be classified on the basis of their potentiality -- that is, what they might eventually become after starting out essentially as biological blank slates. Embryonic cells within the first several divisions are totipotent, meaning they can become anything any type of cell or even develop into a whole organism. ESCs from later divisions are multipotent, which means that they can become any type of cell, but not an entire organism. Adult stem cells are pluripotent, which means that they can become a number of different specialized cell types, but not the whole gamut of them. This is the main advantage of ESCs over adult stem cells--they can be induced to become virtually any cell of research interest.
Other Advantages of ESCs
ESCs, in addition to their fundamental flexibility, can be maintained in an undifferentiated state for very long periods of time. Scientists do this by controlling the conditions in the culture medium in which the ESCs are grown and kept. Indeed, ESCs are considered "immortal" for practical purposes. In addition, a 2004 study published in the journal "Stem Cells" demonstrated that ESCs possess immune-privileged properties, meaning that it may be possible to avoid immunologically based tissue rejection in therapies involving ESCs. Finally, thanks to the methods in which scientists grow ESC lines, researchers can have access to an unlimited supply of any cell type.
Specific Findings and Breakthroughs
As of the onset of 2014, ESCs, despite their undeniable promise, had yet to be used therapeutically. But in October 2014, an article published in "The Lancet" described 18 patients with progressive and incurable eye diseases, over half of whom experienced improvements in their vision within two years of starting ESC therapy. This was a bona fide example of ESCs having a direct, positive effect on human illness. That same month, researchers at Harvard University described a major breakthrough in the treatment of Type I diabetes, an autoimmune disease affecting some three million people in the U.S. alone. Using ESCs as a starting point, scientists were able to create, in what they called "massive quantities," functional versions of the pancreatic beta cells responsible for producing insulin in healthy people. These cells were expected to be suitable for transplantation into diabetics as well as for use as a source of pharmaceutical-grade insulin.