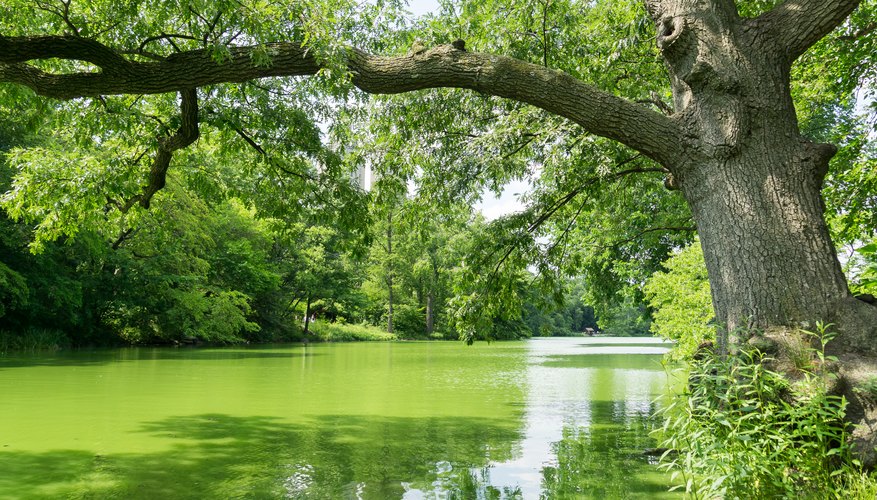 Most types of algae are classified as producers within an ecosystem because they are able to produce their own food. Any plant or organism that can produce its own food through inorganic compounds is known as a producer. Unlike producers, decomposers break down dead plants and animals, and a scavenger is an animal that hunts for its food, such as a wolf.
Sugar Makers
There are hundreds of thousands of species of algae. Simply put, what they all have in common is that they are able to produce their food through a process known as photosynthesis. Photosynthesis refers to the ability of plants to extract energy from the sunlight to produce sugar. The sugar is converted into fuel that can be used to feed the plant. The process of photosynthesis applies to algae, allowing them to use accessory pigments and chlorophyll to perform the process.
Masters of Decay
Decomposers are organisms, also known as saprobes, that consume dead animals and plants. Much like consumers and producers, decomposers play an important role in the food chain because they break down dead matter that is eventually absorbed by autotrophs and heterotrophs.
Consumer Class
Producers are part of the cyclical food chain that occurs in nature. While producers make their own food, they in turn become food for another category that does not produce or scavenge food, known as consumers. For example, consumers such as fish feed off algae.
Heterotrophic Algae
While most algae are autotrophs, meaning they can produce their own food through inorganic compounds, there are a minority of algae types that are heterotrophs, which means they cannot make their own food. An example of a heterotropic plant is the euglenophyta, a unicellular aquatic algae that sometimes has to ingest food that is already made. Such algae can extract microscopic nutrients from the water to feed on.