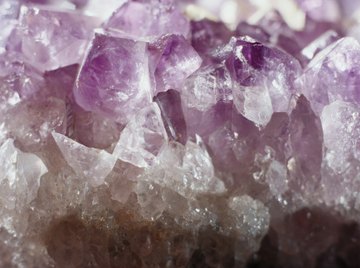 •••
Ryan McVay/Photodisc/Getty Images
Certain areas of Georgia (such as Cleveland in the northwest or Wilkes County in the northeast) are known for their mines that feature quartz, amethyst and other natural gemstones. Rockhounds can pay to dig in these mines and satisfy their quest to find amethyst crystals. Because many of these locations are isolated, be sure to bring plenty of water, snacks and sunscreen. Most mines are open to the public only on certain days or will announce public "dig days" on their websites. You will be required to bring your own small hand tools with you.
Choose an amethyst mining location from the many Georgia mines offered through online websites. Most amethyst mines in northern Georgia require that you make a reservation ahead of time to be able to dig. Different mines are known for different quality amethyst crystals.

Schedule a digging trip to Wilkes County, Ga., for some of Georgia's finest quality amethyst crystals. The Jackson's Crossroads Amethyst Mine is located between Tignali and Rayle streets. Amethyst crystals from this mine range in color from purple to royal purple.

Look at the dump piles carefully for anything glittering or poking up out of the dirt.

Look in the mine dump piles for clumps of dark red clay as these are the natural harbors of amethyst crystals. While Georgia is known for its red clay, amethyst crystals can also be found in dump piles with white clay.

Squeeze any clumps of red or white clay in your hands to find amethyst crystals hidden inside the clay. Watch for heavier clumps of dirt as these usually have an amethyst crystal inside.

Carefully sift through the dump piles using small hand tools to rake through the dirt.

Use a sledgehammer to break open larger rocks to look for amethyst crystals hiding inside.

Hoe
Shovel
Sifting screen
Sun screen
Bug spray
Bottled water
Food/snacks
Gloves
Safety glasses
Sledgehammer

Reserve your Georgia amethyst dig at least one week and preferably two weeks in advance.

Food and lodging can be obtained in Elberton or Washington, Ga., both of which are approximately 15 to 20 miles from the Jackson's Crossroads Amethyst Mine.

The Jackson's Crossroads Amethyst Mine no longer allows children under the age of 12 to dig for amethyst crystals.
References
About the Author
Kay Baxter is a freelance writer that has been writing articles since 1999 on a variety of subjects such as small equine and art instruction. Her book "Miniature Horse Conformation" was published in 2007. Baxter has also had articles published by "Better Homes & Garden" and "The Horse Magazine." Baxter attended Illinois Central College, majoring in art.
Photo Credits
Ryan McVay/Photodisc/Getty Images