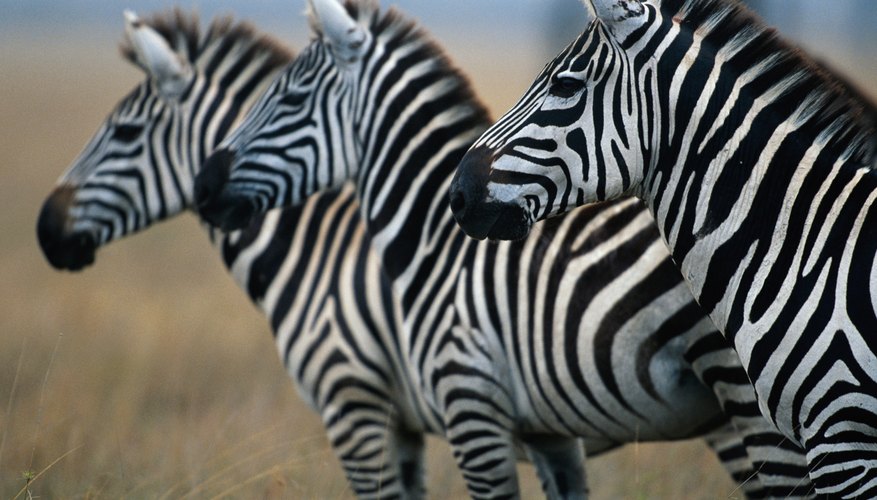 The eating habits of animals fall in to three groups. Herbivores eat only plants. Zebras, buffaloes, gorillas and horses are examples of herbivores. Omnivores such as ravens, squirrels and human beings eat both plants and animals. Carnivores eat meat only. Carnivores sit at the top of the food chain and have adapted digestive tracts that can only process meat.
Invertebrates
Centipedes, jellyfish and sea stars are carnivorous. Centipedes feed on snails, worms and rodents. Jellyfish eat smaller fish and turtles. Octopuses and squid also eat smaller species of fish. Sea stars feast on clams, oysters and mollusks. Spiders trap smaller insects in their webs before they eat them. Scorpions, dragonflies and wasps eat smaller insects after disabling them with their stingers.
Fish and Amphibians
Some fish and amphibians are meat eaters. Bony fish such as tuna, marlin, salmon and bass are carnivores. Tuna eat schooling fish, crustaceans and squid. Marlin feed on octopus, squid, tuna and mackerel. The prey of salmon and bass varies depending on the environment but consists of smaller invertebrates like worms. Frogs and toads eat insects. Sharks reside at the top of the maritime food chain, eating all lower forms of fish and marine mammals.
Reptiles
Some species of turtles eat small fish and worms. Generally snakes are predatory carnivores and will eat whatever they can kill. Mostly they eat small rodents as this is a plentiful prey for them. Crocodiles and alligators are also general predators and eat whatever they can kill under water and on land. Usually they thrive on large fish and shore birds. Some lizards are also carnivores, like the monitor lizard that eats small rodents and eggs.
Birds
Many birds are herbivores or omnivores, but some species of birds, especially raptors like hawks, eagles, falcons and vultures, are carnivores. Raptors will kill prey like small animals and fish but also are scavengers and feed off the carcasses of larger animals too big to be their prey. Eagles are considered to be at the top of the raptor food chain and have been known to attack other raptors. Waterfowl such as penguins, gulls, storks, pelicans and herons feed on invertebrates, as they have not evolved teeth and swallow their prey whole.
Mammals
At the top end of the food chain are carnivorous mammals. Wolves, dogs, tigers, panthers, cats, lions, mongooses and hyenas are all mammals that are carnivores. The prey of a carnivore varies depending on its environment, but usually a carnivore preys on a smaller carnivore, omnivore or herbivore. Domesticated carnivores like dogs and cats eat meat given to them by humans. Marine mammals such as porpoises, dolphins and whales prey on fish.