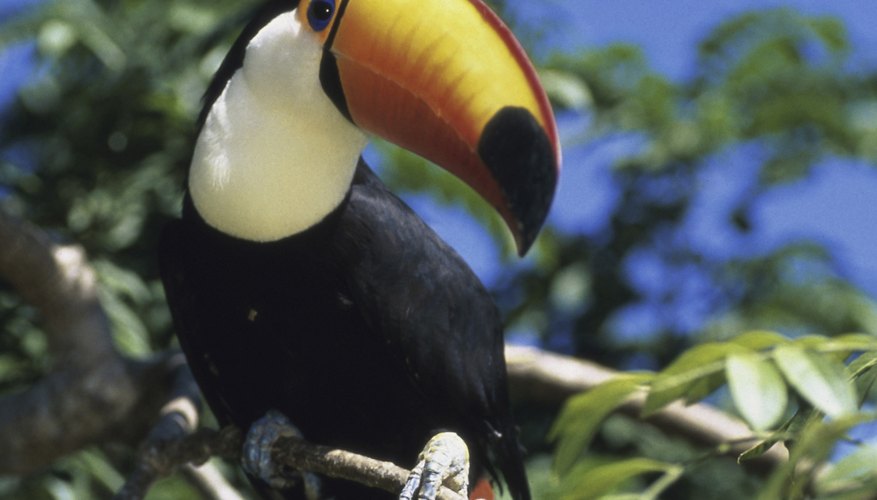 Rain forests are biomes where over 200 inches (500 centimeters) of rain fall each year, according to the Kids Do Ecology website from the University of California, Santa Barbara (UCSB). They are home to over half the world's species of plants and animals, with upwards of 30 million distinct specimens, according to California Technical Institute in its web post "What Is a Rainforest." Naturally, there is some competition for food between animals. Whether in the tropical rain forests, such as the Amazon, or temperate rain forests, such as those found in the Pacific northwest of North America, animals are constantly evolving ways to stay ahead of the competition.
Toucans and Other Birds
Around 27 percent of the world's bird species live in the rain forest, according to UCSB. Because some birds are competing for the same nuts and berries, many have adapted a special feature that gives them an edge. For example, the toucan has evolved the long beak not only to reach high-hanging fruit, but also to help it cut fruit down from branches.
Competetion Between Monkeys
Monkeys also compete for the same food resources. In the rain forests of Africa and Asia, these monkeys have developed cheek pouches in which to store food. That way, when a monkey runs across a food source such as fruits or fresh meat, it can store some for later, when food is scarce due to competition.
Amphibian and Reptile Competetion in Temperate Rain Forests
Amphibians in the temperate rain forests also compete for food. Creatures such as Fowler's Toad and the American Toad both consume invertebrate insects. Such toads also have to compete with other animals, such as reptiles like the Box Turtle, which also dine on insects.