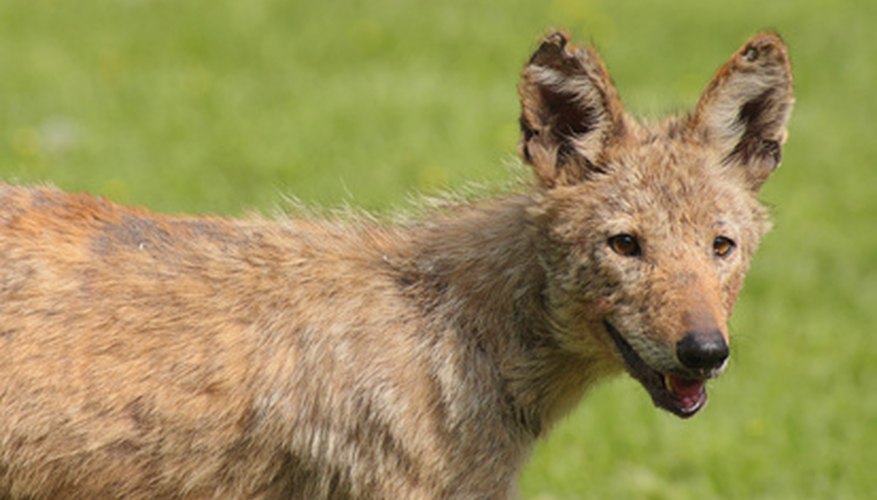 Twenty percent of the earth is desert. Hot and dry deserts are characterized by temperatures ranging from 68 to 118 degrees Fahrenheit, little rainfall, small amount of vegetation comprised of short shrubs and woody trees. Animals that live in hot and dry deserts have adapted lifestyles that allow them to thrive under such harsh conditions.
Coyote
Coyotes are mostly tan in color, but their fur can also include shades of brown, gray and black. Their coats provide coyotes with the ability to blend in with their habitat. Coyotes can be up to 4 feet long, 2 feet tall and weigh up to 30 pounds. They live all across North America, inhabiting prairies and mountains in addition to deserts. They eat rabbits and rodents, antelope, goats, sheep, insects, reptiles, dead elk and deer or cattle, fruits, nuts and even garbage. In areas where their habitat is compromised, they encroach upon developed areas and have been known to hunt stray domesticated animals.
Bobcat
Bobcats primarily live in the United States southwest. Their hair is a mix of white, black, brown and orange. Bobcats are a medium-size feline, weighing anywhere from 15 to 20 pounds, 2 feet tall in height and ranging from 3 to 4 feet in length. Bobcats are excellent hunters, subsisting off of small animals like rabbits, squirrels, mice, gophers and rats; however, they are capable of hunting and killing animals the size of a deer.
Cactus Ferruginous Pygmy Owl
The cactus ferruginous pygmy owl is so tiny it can be held in a human hand. They usually are approximately 6-1/2 inches long and weight 2-1/2 ounces. The tiny owl has creamy-brown back and wing feathers, while its undersides are cream-colored with red-brown stripes. Their yellow eyes are highlighted by black spots encircled by white. Ranging throughout Arizona and northwestern Mexico, the owl is a particularly fine hunter, capable of killing a bird twice its size.
Banded Gila Monster
Located in the United States southwest, the banded gila monster is a poisonous lizard; their pink, orange, red and black coloring alerts other animals to their poisonous nature. Baby banded gila monsters are 3-1/2 to 4-1/2 inches long, while adults can be up to 2 feet long and weigh up to 3 pounds. They are diurnal but have a tendency to burrow underground and are consequently rarely seen. Bandied gila monsters eat bird and reptile eggs, small rodents and reptiles, baby birds and rabbits. They eat a large amount of food at one time, store the food as fat in their tails and live off this fat for up to three months.
Armadillo Lizard
Armadillo lizards are diurnal animals that live above ground in Africa's southern deserts. Their diet is comprised of insects, spiders and other invertebrates. Armadillo lizards range in size from 15 to 17 inches and weight 8 to 17 pounds. Their bodies are flat, with narrow heads that allow them to use rock crevices as shelter. For protection from predators, their bodies are covered in spiny scales.