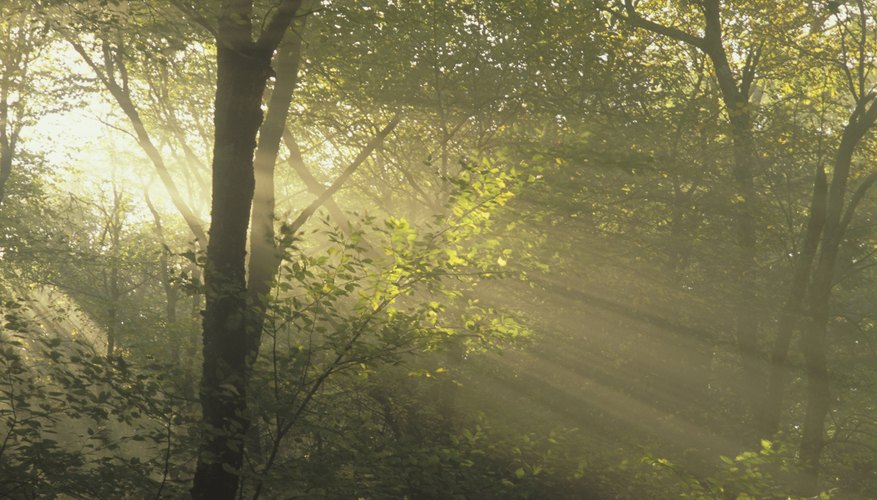 Woodlands, in comparison to forests, are areas of lower-density foliage. They usually have a more open canopy, allowing sunlight to enter, and are often transition zones between different habitats -- forest and grassland, for example. The dominant trees are typically temperate deciduous species. Woodlands are rich in biodiversity and home to a number of animals, such as those highlighted below.
Invertebrates
North American woodlands have large populations of several insects, such as woodland ants and cicadas. Monarch butterflies are well known for their spectacular migrations and overwinter in Californian woodlands, though habitat loss has resulted in a dramatic decline in numbers.
Reptiles and Amphibians
Woodland species include insectivorous salamanders and tree frogs, many of which play important roles in woodland ecology. Poisonous snakes include coral snakes, rattlesnakes and cottonmouth snakes.
Birds
Wild turkeys suffered a decline in the early 20th century due to hunting and habitat loss, but have now recovered in numbers thanks to reintroduction efforts. Other common woodland birds include phoebes, warblers and hawks. Owls such as the screech owl and the ferocious great horned owl also roost in woodlands.
Mammals
North American woodlands are home to many iconic mammals, such as the black bear, bobcat, American beaver, gray squirrel and cottontail rabbit. Over-browsing by excessive deer numbers, especially of white-tailed deer, is a concern, as it can cause changes in woodland composition and knock-on effects on other wildlife, such as a decline in songbird numbers.