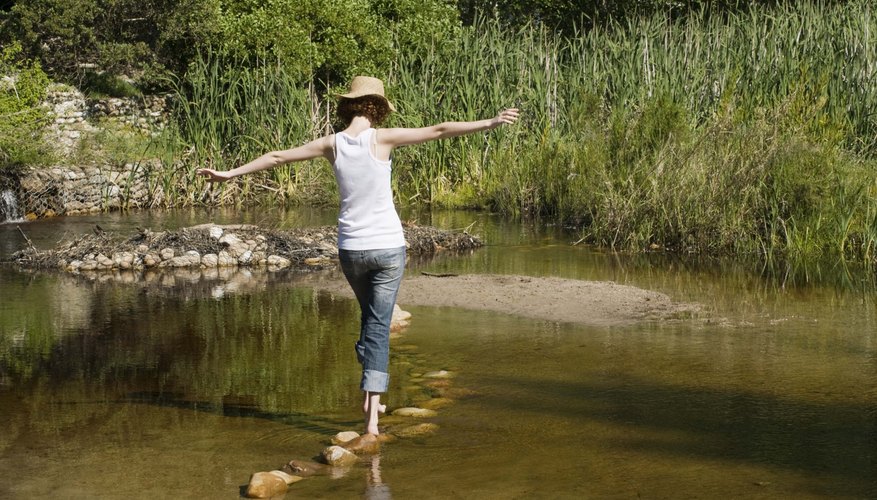 Jupiterimages/BananaStock/Getty Images
Ecosystems consist of all of the living and non-living components of a selected environment -- for instance, animals, fish, plants, rocks, sand and water – and the interactions among them. Aquatic ecosystems are water-based. They may vary considerably in size, encompassing an entire ocean or contained within a small puddle. Like all ecosystems, aquatic ecosystems cycle matter, and energy flows through them, allowing myriad forms of life to exist.
Marine and Freshwater Ecosystems
Aquatic ecosystems are divided into two categories: marine and freshwater. Marine ecosystems consist primarily of saltwater, while the water in freshwater ecosystems lacks a noteworthy amount of salt. Because of these differences in salinity, marine and freshwater ecosystems generally contain different species. However, some species, such as eels, salmon and striped bass, can survive in both freshwater and marine ecosystems.
Subtypes of Aquatic Ecosystems
The two categories of aquatic ecosystems can be further classified into subcategories. Examples of major subcategories include the open ocean, ocean bottom, coral reefs, mangrove swamps, salt marshes and estuaries. Freshwater ecosystems can be classified as lotic, where the water flows, and lentic, where the water is nearly stationary. Examples of lotic ecosystems include creeks, rivers and springs; examples of lentic ecosystems include swamps, bogs, ponds and lakes.
Abundant and Prolific
Aquatic ecosystems -- specifically, the marine variety -- are the most abundant ecosystems on Earth. They are also the most prolific: the oceans host the highest diversity of the major microbial, plant and animal groups in the world. Scientists estimate that marine ecosystems alone support nearly 50 percent of all the species on the planet, with perhaps a million more still undiscovered.
Blurred Boundaries
The boundaries of aquatic ecosystems are not fixed. They may seem clear -- for instance, the edge of a creek. But in an estuary, fresh water from a river gives way to the saline water of an ocean or gulf and often changes with the tides. There is clearly no set point where the river ecosystem ends and a marine ecosystem begins.
Role and Benefits
Aquatic ecosystems play a crucial role in the global carbon cycle. Oceans alone provide almost half of the world's oxygen supply and one-fifth of the protein supply. Species from marine ecosystems might even potentially serve as sources of medicine. Aquatic ecosystems also help to protect land-based ecosystems. For instance, during a hurricane, both freshwater and marine coastal ecosystems -- from coral reefs to marshes -- act as a shield for inland areas, buffering them from storm surges.