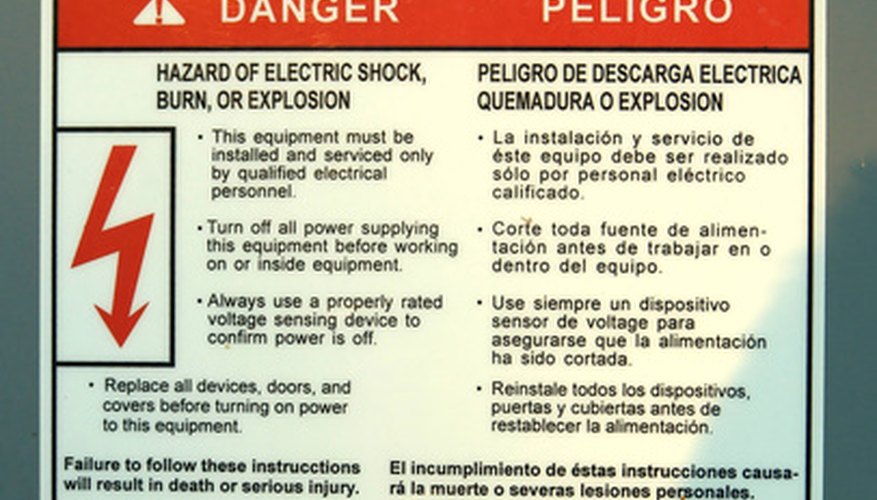 electrical sticker image by Tijara Images from
Fotolia.com
An arc flash occurs when electricity suddenly arcs through the air between two conductors. It is a workplace hazard that can lead to injury or death. An arc flash study is sometimes called an arc flash hazard analysis, though many companies actually consider an analysis to be part of a study. OSHA regulates arc flash with the help of the National Fire Protection Association standards. The association publishes NFPA 70E, which gives guidelines for arc flash hazard analysis. IEEE, the Institute of Electrical and Electronics Engineers, has Standard 1584, Guide for Arc Flash Hazard Calculations, which the NFPA accepts.
Considerations
A short circuit is when electricity travels in a path with little resistance, causing an excess of current. It is caused by what are known as faults, where wires unexpectedly contact each other or the ground. This is due to causes such as bad installations, dirt and damaged wires. Faults can cause arc flashes.
Features
An arc flash study is basically a continuation of a short circuit and coordination study. A short circuit study is done to determine the amount of current flow that can occur at points in an electrical system as a result of a short. The result indicates whether the electrical system has the ability to interrupt the power with the use of equipment such as circuit breakers or fuses. A coordination study is done as an aid in finding the proper devices and settings for power interruption equipment.
An arc flash study is a short circuit and coordination analysis geared towards a way of understanding and preventing arc flash hazard. It is often done with the aid of specialized software or spreadsheets. IEEE standardizes the study at nine steps. Some arc flash assessments may use fewer steps, such as six or four, but the type of analysis is the same.
Data Collection
Steps 1 and 2 deal with data collection and determining modes of operation. The data is collected with the use of one-line diagrams. These are simplified drawings that show items such as circuit breakers, conductors and power sources. The modes of operation are used to study worst case scenarios that may lead to arc flash, such as operations with circuit breakers open or closed or with certain motors or generators running or not running.
Analysis
Steps 3 and 4 are the determination of bolted fault currents and arc fault currents. A bolted fault current occurs as a result of two conductors becoming joined together. The bolted fault and the arc fault currents are calculated with the use of the data from steps 1 and 2.
Step 5 recommends that the characteristics of protective devices such as circuit breakers be assessed and that the possible duration of the arc flashes be calculated.
In step 6, the system voltages and classes of equipment are to be documented. IEEE has a table showing six classes of equipment with categories of open air, switchgears, panel boards and cable. A switchgear is composed of the equipment used to interrupt current flow. Panel boards, also called panelboards, are used to divide an electrical power source into different circuits.
Step 7 determined the working distance, which is the maximum distance the worker should be from an arc flash source, such as a live wire.
Arc Flash Hazard Analysis
Steps 8 and 9 are to determine incident energies and flash protection boundaries, respectively, for all equipment. The incident energy is the energy needed for an arc flash to cause second-degree burns. The flash protection boundary is specified as the distance where the incident energy or second-degree burns are caused. The incident energy and arc flash boundary are calculated using equations recommended either by the NFPA or IEEE.
Organizations and companies often separate steps 8 and 9 from the rest and combine them into what is known as an arc flash hazard analysis.