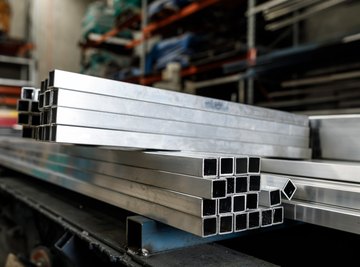 •••
Thurtell/E+/GettyImages
ARCAP alloys are a proprietary group of alloys that do not contain iron and so are not magnetic. They have very high tensile strength and they are resistant to chemical corrosion, low temperatures and temperature changes.
Types
ARCAP alloys contain different combinations of metals like nickel, copper, cobalt, tin, lead and zinc. Depending on the particular alloy, different forms like wires, rods, coils, sheets, plates and tubes are available.
Benefits
One of the most notable advantages of ARCAP alloys is their resistance to scaling in hard water. ARCAP pipes are less likely to clog. Also, the high tensile strength of ARCAP allows it to be extended or drawn out by up to 45 percent of its length.
Processing
ARCAP alloys can be processed in a variety of ways, including machining, forging, drawing, brazing, welding and plating. The alloys have wide applications in automobiles, electronics, telecommunication, medical equipment, watchmaking, medical equipment, aircraft and the aerospace industry.
References
About the Author
Lexa W. Lee is a New Orleans-based writer with more than 20 years of experience. She has contributed to "Central Nervous System News" and the "Journal of Naturopathic Medicine," as well as several online publications. Lee holds a Bachelor of Science in biology from Reed College, a naturopathic medical degree from the National College of Naturopathic Medicine and served as a postdoctoral researcher in immunology.