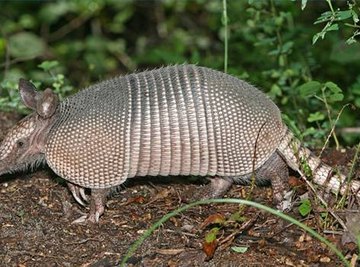 •••
Image: Tom Friedel, license: http://creativecommons.org/licenses/by/3.0/
Armadillos are a curiosity in the animal kingdom, as there are no creatures quite like them anywhere in the world. They are found on only half the globe, and in a limited distribution at that; 20 distinct armadillo species populate the Western Hemisphere, with 19 of these native to Latin America and the remaining type, the nine-banded armadillo, calling the United States home.
With their characteristic natural body armor and wide range in size – full-grown armadillos can be as small as 3 ounces and as large as 120 pounds – it is natural to wonder what armadillos eat to grow and maintain their uncommon physical form and how they go about getting food in the wild.
Armadillo Facts
Armadillos are mammals, unique among this family of creatures for their shell, which covers their back, head, legs and tail. Owing to their startling variation in size – the pink-fairy variety grows to only 5 inches in length, while the fittingly named giant armadillo reaches 5 feet – the feeding habits of different armadillo species vary considerably.
Though they favor meat when they can get it, armadillos are omnivores, meaning that they consume a mixture of meat, fruit and vegetables depending on what is available. They are closely related to anteaters and sloths but are unlikely to be mistaken for any other kind of beast by a modestly trained observer.
Foraging and Hunting
Because armadillos have little to no hair to help regulate their body temperature, they tend to wait until evenings to forage during hot summers, but seek food in the middle of the day in the cooler winter months. Few armadillos, however, live in truly cold climates; because they cannot store fat and have low metabolic rates, sustained, extremely chilly temperatures can eradicate large numbers of armadillos.
Because their shell is heavy, when armadillos need to cross water, they swallow a great deal of air, which makes them temporarily more buoyant. Though air is not a source of nutrition, this "dietary" habit can be important in allowing armadillos greater mobility, and hence improved access to food, in environments that include ponds, lakes and streams.
Sources of Sustenance
Armadillos primarily eat insects, such as beetles, grubs and moth larvae. Some of them consume salamanders, toads, frogs, lizards including skinks, and small snakes. Some species even eat small vertebrates, including rabbits and birds, though this is rare. Armadillos can be scavengers as well, being no strangers to carrion (meat from recently deceased animals). They have long, sticky tongues that allow them to extract ants and termites from the tunnels these bugs dig for themselves.
In addition, armadillo diets include plants and some fruit in the summer. They prefer grapes, saw palmetto, greenbrier and Carolina lauralcherry. They eat fallen bark, though perhaps primarily for the insects they may find inside it.
References
About the Author
Kevin Beck holds a bachelor's degree in physics with minors in math and chemistry from the University of Vermont. Formerly with ScienceBlogs.com and the editor of "Run Strong," he has written for Runner's World, Men's Fitness, Competitor, and a variety of other publications. More about Kevin and links to his professional work can be found at www.kemibe.com.
Photo Credits
Image: Tom Friedel, license: http://creativecommons.org/licenses/by/3.0/