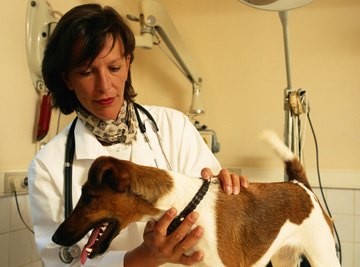 •••
David De Lossy/Photodisc/Getty Images
Tenth grade is not too early to start preparing for veterinary school. In high school, according to Rutgers University, you should take as many science and math courses as possible to get ready for undergraduate studies. Many veterinary schools require you to complete three years of college before applying. Math courses can also prepare you prepare for college admissions tests -- ACT or SAT -- and later the veterinary school-required admissions tests, GRE or MCAT.
Math Course Recommendations
Instead of simply doubling up on math courses in 10th through 12th grade, choose courses that will help you build solid math skills. In college, you will take many math courses in the first couple years -- more than other courses, except perhaps the physical sciences. At most colleges, the core academic courses for all freshmen include algebra and trigonometry, so you can take equivalent courses in high school to prepare for the college-level ones. Further, according to Dartmouth College, college students should also complete statistics and calculus to prepare for the MCAT, so high school statistics, calculus or pre-calculus courses are also good choices.
References
About the Author
Melissa McDonald has been writing about education since 2006. Her work has appeared in "AdjunctNation," "JCW" and "Honor Cord" e-zine. She holds a Master of Arts in English from the University of Louisiana at Lafayette and currently works in higher education as a writing consultant. Beyond her work as educator and writer, McDonald volunteers as a judge in both local and national writing competitions for high school and college students.
Photo Credits
David De Lossy/Photodisc/Getty Images