H
Periodic Table
He
Li
Be
of the Elements
B
C
N
O
F
Ne
Na
Mg
mouse/touch for more information
Al
Si
P
S
Cl
Ar
K
Ca
Sc
Ti
V
Cr
Mn
Fe
Co
Ni
Cu
Zn
Ga
Ge
As
Se
Br
Kr
Rb
Sr
Y
Zr
Nb
Mo
Tc
Ru
Rh
Pd
Ag
Cd
In
Sn
Sb
Te
I
Xe
Cs
Ba
Hf
Ta
W
Re
Os
Ir
Pt
Au
Hg
Ti
Pb
Bi
Po
At
Rn
Fr
Ra
Rf
Db
Sg
Bh
Hs
Mt
Ds
Rg
Cn
Uut
Uuq
UuP
Lv
Uus
Uuo
La
Ce
Pr

59

Praseodymium

140.90765

Nd
Pm
Sm
Eu
Gd
Tb
Dy
Ho
Er
Tm
Yb
Lu
Ac
Th
Pa
U
Np
Pu
Am
Cm
Bk
Cf
Es
Fm
Md
No
Lr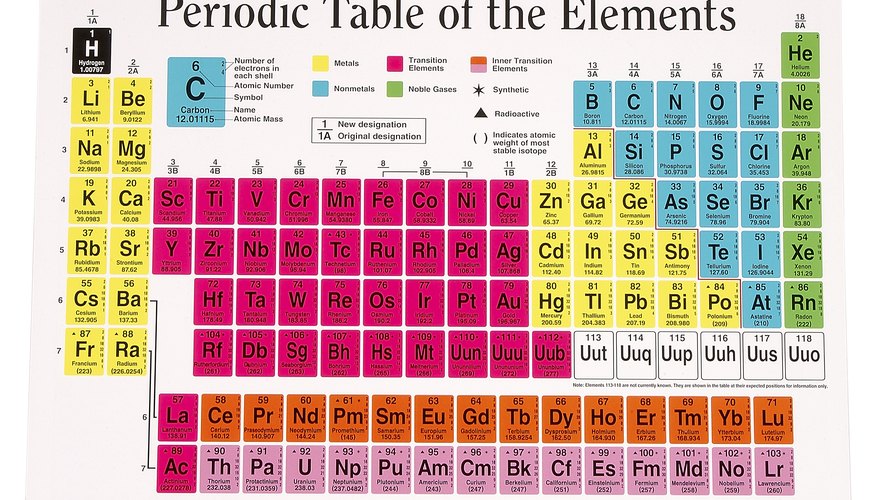 Atomic density means the number of atoms per unit volume. The atomic number of an element represents the number of protons in the nucleus and the number of electrons surrounding it.
Periodic table of the elements
The periodic table of elements lists elements in ascending order according to its atomic number. Hydrogen, the first element in the periodic table, has the atomic number of one, corresponding with the number of protons in the nucleus. The last element in the periodic table is Ununoctium, and it has 118 protons in the nucleus.
Atomic weight
As the atomic number increase, the actual weight of each of the elements also tends to increase. When looking at the periodic table, the elements generally get heavier going down each column and to the right across each row.
Density
The density of an atom is determined by the number of atoms a substance per unit volume of the material. Solids will have a higher atomic density than gases.
Atomic number
The atomic number refers to the number of protons in the nucleus of a substance. Since undisturbed elements have a neutral electrical charge, the number of electrons is also the same as the atomic number. Except for a few cases, the atomic weight increases as does the atomic number.
Synthetic elements
Elements with the atomic numbers 104-118 are synthetically-produced materials that have not been found in the natural world. They have only been produced in places such as laboratories or particle accelerators. Ununoctium was discovered as recently as 2002 in Dubna, Russia.