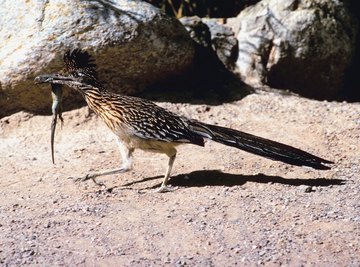 •••
Jupiterimages/Photos.com/Getty Images
The state bird of New Mexico, desert roadrunners hold a special place in the heritage of the southwest United States. These charismatic birds not only feature in pop culture, but also in Native American culture and tradition as well. As one of the few predators skilled enough to hunt rattlesnakes, you might understandably want to encourage these unique creatures to visit your yard or garden by creating the perfect roadrunner habitat.
How to Attract Roadrunners
When you're considering how to attract roadrunners, you should ask yourself a few important questions. What do roadrunners eat? Where do roadrunners live? And where do roadrunners nest? For roadrunners to frequent your yard, they'll need to have access to their usual food and water sources, appropriate habitats to hide in and also somewhere for them to nest. The best way to attract roadrunners to your yard is by replicating their natural ecosystem as much as possible.
Roadrunner Diet and Attracting Prey
What do roadrunners eat? Though they are best known for their ability to hunt rattlesnakes, the roadrunner diet certainly isn't restricted to snakes! Roadrunners are skilled hunters and can use their speed to take down a number of different species. Some common prey includes scorpions, tarantulas, birds, eggs, mice, lizards, snakes, centipedes and frogs.
These skilled predators actually have an ​omnivorous diet​, which means they feed on plants as well as animals. For the herbivorous portion of the roadrunner diet, these birds eat prickly pear cactus, seeds, fruits and other plant material. Attracting roadrunners involves attracting their prey by providing hiding places, planting native vegetation and providing water sources.
Roadrunner Habitat
Where do roadrunners live? Though these birds inhabit the southwest United States, they prefer living in arid regions with a specific type of scrubby habitat. To attract desert roadrunners, you should plant a mixture of open, grassy areas for hunting prey and scattered brush for shelter from predators. Planting native vegetation also attracts their prey species of insects, birds, reptiles and small mammals. These birds generally avoid areas with dense forest or woodland.
Encouraging Roadrunner Nesting
If you replicate a roadrunner habitat well enough, and can successfully attract enough prey for them to feed on, you can also encourage nesting in or near your yard! It's important to first ask yourself, "where do roadrunners nest?" These birds utilize specific habitats to build their nests. They prefer chaparral habitats and frequently nest in coastal sage scrub, small trees or cactus.
Nesting roadrunners need ample food, shade and shelter. These birds typically get enough water from the prey they eat, but providing a water source can encourage their prey to congregate and provide a place for roadrunners to hydrate when prey is scarce.
Providing Water for Roadrunners and Other Wildlife
Researchers have found that providing artificial watering locations for wildlife can increase distribution. This means that animals can live in a wider range of habitats over a larger expanse of their natural range when they have a reliable water source to drink from. By providing a shaded water source for wildlife, you can attract not only roadrunners but a number of other native creatures.
However, you should use extreme caution when providing water for wildlife. Water sources attract prey, but they also attract predators as well, which is why it's important to make sure you provide native vegetation for roadrunners to shelter in.
Standing water can also create a breeding ground for bacteria and can potentially spread disease. It's important to empty and clean water sources on a daily basis for this reason. Finally, small animals can fall into water containers and drown, so you should place a variety of flat stones and sticks in the water to give smaller creatures a way to escape if they fall in.
References
Warnings
Roadrunners are ideally suited to the desert habitat. They get most of the water they need from their food so providing water will not attract them.
About the Author
Marina Somma is a freelance writer and animal trainer. She holds a B.A. in Psychology and a B.S. in Marine and Environmental Biology & Policy from Monmouth University. Marina has worked with a number of publications involving animal science, behavior and training, including animals.net, SmallDogsAcademy and more.
Photo Credits
Jupiterimages/Photos.com/Getty Images