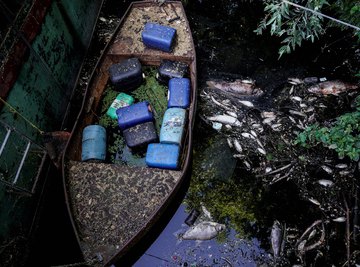 •••
KENZO TRIBOUILLARD/AFP/GettyImages
It's impossible to underestimate the importance of water on Earth. It's the lifeblood of our planet, the substance that covers the majority of it, and the liquid that keeps all of us alive. To put it simply: Without water, we'd all be dead.
The problem is, billions of people across the world are already dying because they've been forced to go without it, or dying because their drinking water is contaminated. Thanks to factors including a growing population, agricultural demands for water, climate change and improper sanitation, we're in the midst of a global water crisis where billions more are facing grim scenarios like a "Day Zero," or a day in the future where their major city runs out of water completely.
It's a complex crisis that will take innovative, sustainable solutions to manage, as well as unprecedented collaboration from policymakers, corporations and world leaders across the planet.
What's Contributing to the Water Crisis?
That's a big, fat question with a lot of big, fat answers. Here's a primer on some of the biggest contributors to our planet's water problems:
Water Running Dry: By 2025, half of the world's population will be living in water-stressed areas. There are 17 countries worldwide that make up about a quarter of the world's population that are already considered high water stress. This happens for a few reasons. Demand for water is rapidly growing, and some places, especially those that were arid to begin with, can't keep up. Other places have poorly managed their resources. The stakes are already high: Cape Town had to take extreme rationing measures to avoid a Day Zero after a three-year-long drought, Mexico City is draining so much of its water supply that it's sinking, Chennai's 5 million residents don't have tap water, and the river Nile, once the hotbed of ancient civilization, is running dry.
Lack of Sanitation: People don't just need a supply of water, they need it to be clean. And it's not. At least 2 billion people worldwide each year drink water that has been contaminated with feces, which leads to serious illness and death from conditions including diarrhea, cholera, dysentery and polio. At least 2,000 kids under the age of 5 die every single day from deaths linked to dirty water and hygiene. While this is primarily a problem in the developing world, it could also be happening in your own backyard. Parts of Flint, Michigan, haven't had clean water for five years and counting, and parts of Milwaukee, Wisconsin, are also dealing with lead levels that can be dangerous for kids. A single harmful algae bloom in Lake Erie forced Toledo, Ohio, residents to go without their water for days, as did a chemical spill in West Virginia. All over the country, issues including aging water pipes, strained community finances, and underperforming water facilities are leading as many as 45 million Americans to face unsafe drinking water.
Agricultural Resources: A greater demand for food means a greater demand for the water that helps grow those crops. Agriculture accounts for about 70% of water withdrawls. That's a staggering number, but that also means there is great opportunity to improve. Individuals can better irrigation management and sustainable farming.
Climate Change & the Environment: Climate change is affecting nearly every aspect of life on Planet Earth, so it's no surprise that it's playing a huge role in the water crisis. As temperatures rise, water evaporates faster from reservoirs. At the same time, weather patterns including rainfall become more extreme and difficult to predict, so water supplies are less reliable.
Population Growth: More people = more demand for water. But there's still just the one planet.
Well ...This is Grim
It really is grim. People are already dying and it's going to get worse. So how can you help?
Start by trying to be a mindful consumer of water. If you're the person that takes long showers, consider cutting back -- just four minutes in the shower can use up to 40 gallons of water. And think before you flush. If you're just using the toilet as a small trash can and flushing a tissue, put it in the trash instead. Keep the faucet off while you're brushing your teeth, and don't run the dishwasher or washing machine unless it's full. And of course, if you live in an area with clean drinking water, carry a reusable water bottle with you to fill up from fountains or the tap rather than contributing to both excessive plastic waste and water scarcity.
On top of that, be vocal about what you're doing, and encourage your friends and family members to make small changes, too. Even if you don't live in a drought zone, it takes a lot of resources and energy to treat that water and distribute it to you, so cutting back on your own water consumption can help contribute to overall waste reduction in other areas, too.
You Can't Do it All
As important as mindful consumption is, though, individuals can't do enough to curb the crisis. World leaders and businesspeople need to come together to create policies that discourage reckless water use, prioritize better water management and sanitation initiatives and incentivize entrepreneurs to launch their own sustainable solutions to the water crisis.
To help encourage that kind of thinking from the higher-ups, keep yourself educated about candidates both in your local and federal elections, and support that ones that suggest plans that make water a priority. While the 2020 presidential race is going to be a big decision for the U.S., water policy is super important even on the smallest local level. When budgets are tight, mismanagement is rampant and elected officials don't prioritize underserved communities, disasters like Flint happen. Even if you can't vote yet, you can still head to local town hall meetings or reach out to candidates via social media, and ask them how they're making sure that your town doesn't turn into another Flint.
You can also support companies that are trying innovative new methods of growing crops, recycling wastewater, or are at least making an effort to drastically reduce their own consumption of water.
Or better yet, get out there and start your own.
About the Author
Rachelle Dragani is a freelance writer based in Brooklyn with extensive experience covering the latest innovation and development in the world of science. Her pieces on topics including DNA sequencing, tissue engineering and stem cell advances have been featured in publications including BioTechniques: the International Journal of Life Science Methods, Popular Mechanics, Futurism and Gizmodo.