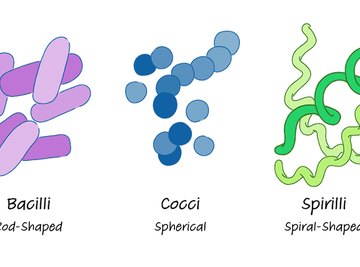 •••
Dana Chen | Sciencing
Why Are Bacteria Important?
Symbiosis: Examples
Pathogenic Bacteria
Nutrient Recycling
The History of Bacteria
Prokaryotes Before Eukaryotes
Structure of a Bacterial Cell
Cell Wall Specifics
Other Bacterial Cell Elements
The Different Types of Bacteria
How Bacteria Reproduce
Division Occurs
References
About the Author
Kevin Beck holds a bachelor's degree in physics with minors in math and chemistry from the University of Vermont. Formerly with ScienceBlogs.com and the editor of "Run Strong," he has written for Runner's World, Men's Fitness, Competitor, and a variety of other publications. More about Kevin and links to his professional work can be found at www.kemibe.com.