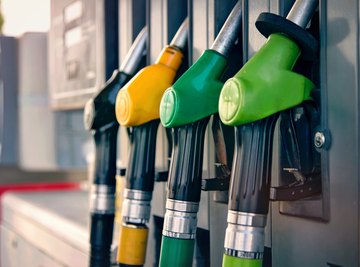 •••
Sol de Zuasnabar Brebbia/Moment/GettyImages
One of many solutions to help curb global warming is to find alternate energy sources. Solar panels and wind turbines can support global electricity needs, including electric cars, but the current reliance on fossil fuels to power automobiles, trucks, airplanes, generators and other engines needs to be addressed. Biofuel such as biodiesel uses a liquid fuel created from plant material that may replace the burning of fossil fuels.
Fossil Fuel and Biofuel: Origins
Fossil fuels are derived from unrefined petroleum. This crude oil is a substance formed from the remains of plant and animal life that has been held under tremendous pressure for millions of years.
The three major types of fossil fuels are petroleum, coal and natural gas, none of which are renewable. This means that the fossil fuels that exist today may one day be exhausted. To prepare for the advent of fossil fuel depletion, biofuels have been and are being created.
Biofuels are derived from living or recently living plant material like corn or switchgrass, a perennial grass that can grow 8 feet to 10 feet high. This bulk material is called biomass and is considered a renewable source of energy since the plant material can be regrown.
Fossil Fuels: Environmental Impact
Burning fossil fuels produces carbon dioxide, and this extra carbon dioxide has long been known to increase the natural greenhouse effect of the Earth's atmosphere.
Briefly, the greenhouse effect is the sun's energy reaching the Earth, warming it, then being re-radiated into the atmosphere. Greenhouse gases like carbon dioxide or methane absorb this energy and re-radiate some of it back to Earth. This helps warm the atmosphere to an average global temperature of about 16 degrees Celsius (59 degrees Fahrenheit), capable of supporting life.
Fossil fuels accelerate the greenhouse effect by placing more carbon dioxide into the atmosphere, and this raises the temperature of the planet, an effect known as global warming. This temperature shift can cause climate change as the Earth's usual climate becomes unbalanced.
Biofuels: Environmental Impact
Burning biofuels also produces carbon dioxide, small quantities of carbon monoxide and other particulates just as fossil fuels do. The difference is not so much in the combustion contents, but that the biomass, in their recent growth, used atmospheric carbon dioxide during photosynthesis.
The assumption is that the burned biofuel replaces the original carbon dioxide taken in by photosynthesis. Therefore, biofuels are considered to have a net carbon dioxide emission of zero over their lifespan.
Types of Biofuel
Fossil fuels consist of hydrocarbons in both chain and aromatic forms, but biofuel consists of hydrocarbon chains with attached oxygen groups. Their chemical composition may include acids, alcohols and esters.
Biofuel is more of a transition approach to zero carbon emissions since the combustion of biomass still produces carbon dioxide, particulates and with the added oxygen, may even create toxins such as formaldehyde in the combustion process.
Biofuel has generations. The first generation of biofuel production is fuel based on plant crops like corn or sugar cane. The second generation is from animal or vegetable waste, and the third generation biofuel is derived from algae.
Different types of biofuels exist, and many are currently being used in blends with the fossil fuels gasoline or diesel. Below are common biofuels currently in use and their definitions, composition and production and uses.
Biodiesel Biofuel
The basic biodiesel definition is a fuel of golden to dark brown color intended as a substitute for diesel. The composition of biodiesel is mostly triglycerides that are classified as esters. The esters are processed through transesterification. Biological oils from vegetable and animal fats — this includes used oils from cooking — react with short-chained alcohols and a catalyst under heated conditions.
Tranesterification converts the esters, the long-chain fatty acids, to biodiesel and glycerin. Although a mixture, the basic biodiesel chemical formula is C17H34O2, with the ester group –CO2CH3 at the end of the long carbon chain.
Biodiesel Uses
Biodiesels are used in engines designed for diesel fuel. Biodiesel produces less sulfur in the combustion process but delivers less energy than petroleum-based diesel. Minimal engine modifications are needed to use biodiesel; usually, only the installation of synthetic rubber hoses and seals in the fuel system as the biofuel degrades natural rubber.
At low temperatures, a high concentration of biofuel becomes too viscous to work in an engine and would not be suitable for temperatures below 13 degrees Celsius (55 degrees Fahrenheit) as corrosion to engine parts may occur. Blends of less than 20 percent biofuel and 80 or more percent diesel circumnavigate this viscosity concern.
Biodiesel may be purchased at certain fuel stations and is commonly distributed as B100, 100 percent biofuel, or B20, a blend of 20 percent biofuel and 80 percent diesel. Gas mileage decreases above a B20 rating of biodiesel. This decrease nulls any gain that diesel has over gasoline, especially when traveling at higher speeds.
Ethanol Biofuel
The basic ethanol definition is a colorless liquid produced by the natural fermentation of sugars. Ethanol is composed of carbon, hydrogen and a hydroxide group, and it is derived from corn, sugar beets and sugar cane. The process used is fermentation. The more economical process is to grind the corn into flour-like consistency before fermenting.
After the fermentation process, the ethanol is distilled (purified) to a high concentration. The chemical formula for the ethanol molecule is C2H5OH.
Ethanol Uses
Ethanol can be used in engines designed for gasoline. Any vehicle sold in the United States can run on a blend of 10 percent ethanol and 90 percent unleaded gasoline. Most gasoline sold now is blended with ethanol.
Ethanol helps gasoline burn more completely; this boosts the energy yield, but it does have the potential of contributing more smog pollutants into the environment.
Methanol Biofuel
The basic methanol definition is a colorless liquid distilled from plant material or by oxidizing methane. Methanol consists of carbon, hydrogen and a hydroxide. It is the simplest of alcohols with a chemical formula CH3OH. Methanol is less expensive to produce than ethanol and can be derived from any plant material or from landfill gas or power plant emissions.
Methanol is produced through a synthesis reaction of carbon monoxide and hydrogen. These components may be generated from the burning of coal, gas, or biomass. Using the waste product of one process, like the gases from the burning of coal, for the start products of another process, like the creation of methanol, is industrial recycling and will reduce the release of pollutants into the atmosphere.
Methanol Uses
Methanol can be used in gasoline-powered engines. The advantages of using methanol as a fuel include a lower volume of toxins and particulates from combustion than gasoline. Up to 15 percent of methanol by volume can be mixed in gasoline engines without any engine modification.
Although methanol is significantly less expensive, the reduction in gas mileage cancels the cost effectiveness. Also, it is difficult to remove water from methanol, and this can corrode engine hoses and seals.
Biobutanol Biofuel
The basic biobutanol definition is a colorless liquid fuel made from certain plants, mostly corn. The basic composition of butanol consists of carbon, hydrogen and oxygen. It is a four-carbon alcohol (butyl alcohol) with a chemical formula of C4H10O.
Biobutanol is primarily derived from the fermentation of corn feedstock. In the fermentation of simple sugars from feedstock, butanol, ethanol and acetone are produced. The separation of these byproducts increases production cost, though any processing plant that produces ethanol can also produce butanol.
Biobutanol Uses
Biobutanol is less corrosive and provides nearly 25 percent more energy than ethanol and can be blended with gasoline to help reduce greenhouse gases. Butanol may be blended with gasoline before transportation while ethanol must be transported separately and mixed at the fuel outlet.
Biobutanol provides less energy than gasoline, but has significantly fewer toxic compounds upon combustion. Any car that runs on gasoline can run on a biobutanol blend. Most car manufacturers will accept a biobutanol blend with gasoline up to 15 percent with no modifications to the engine.
Algae Biofuel
The basic algae biofuel definition is a light-green liquid fuel made from algae. Like plants, algae convert sunlight into energy by photosynthesis. There are over 100,000 genetically diverse strains of algae, from tiny protozoa in ponds to large kelp in the ocean.
Algae has a high concentration of lipids or fatty, oil-containing molecules. These lipids need to be extracted and can be converted into biofuel. There are many types of algae, but a general algae biofuel chemical formula is C106H263O110N16.
Chlorella and spirulina are more suitable for biosynthesis than other algae, but genetically modified algae creates organisms with a higher lipid content that could increase the energy yield by up to 40 percent.
Algae Production
Algae may be cultivated in large open ponds or pool-like systems. Closed-loop systems are not open to the air and carbon dioxide must be pumped in. Using CO2 from smokestacks can recycle waste product from one process for the fuel of another. Algae growth is bountiful, and product can be collected on an average of every five days.
In order to separate the lipids, the algae needs to be a dry powder. Often, the drying of algae takes more energy than the energy the fuel would provide when combusted as a usable fuel. New technology is being developed that skips the drying process and has algae in the state of liquid suspension while jets of solvent extract the lipids.
Algae Uses
Like vegetable oil, algae contains lipids, and algae fuel can be converted into biodiesel. It may be used in any diesel engine.
Blends can be created that range from B5, a 5 percent biofuel in 95 percent diesel, to B50, 50 percent biofuel and 50 percent diesel. The B30 blend was slightly more efficient than diesel fuel in one study, and in other studies, the CO2 emissions were higher than for fossil fuels.
Additional Biofuel Points
Biofuel needs plant growth as its base. In a world of ever-increasing population — expected to reach 9.6 billion by 2050 — using fertile land to grow plants for fuel may not be in humans' best interest. However, if areas of denigrated land were utilized, such as abandoned farmlands, it would offset this concern.
Of the biofuels listed, biodiesel is the most democratic. A consumer could, with an inexpensive start-up and space, create biofuel in their backyard. Used cooking oil could be collected from local restaurants, filtered and then placed into a container for transesterification.
The cost of biofuels remains high when compared to fossil fuels. However, this is also because of government subsidies of fossil fuels. Fossil fuel subsidies in the United States can be on the order of trillions of dollars per year. If renewable fuels were subsidized at this rate, production costs could be lowered, and renewable biofuels could compete with fossil fuels.
References
About the Author
Rosann Kozlowski is currently a freelance writer and tutor. She has a Master's Degree in Chemistry from the University of Oregon and has previously worked in the pharmaceutical industry and has taught at the middle school, high school, and college levels.