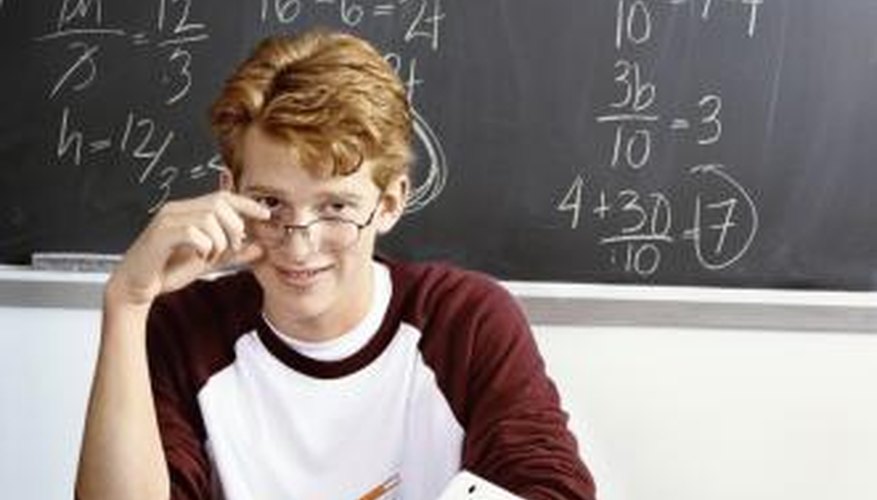 Math involves several basic principles that are employed from grade school through upper level college classes. These rules are critical to understand in order to understand higher math. Many school children use the memory tool "Please Excuse My Dear Aunt Sally" to remember the order in which to perform these rules.
Parentheses
Equations in parentheses are done first, because parentheses separate out separate sections of equations. For example, in the equation (Z+2)x3, the Z+2 in parentheses has to be done first, because the sum of Z+2 is being multiplied by 3; without doing the parentheses first, only the 2 would be multiplied by 3.
Exponents
Exponents are performed second. Exponents mean multiplying a number by itself the required number of times. For example, 5 to the fourth would be 5x5x5x5.
Multiplication
Multiplication is a quicker way to do more complex addition. For example, 3x4 is the same as saying 3+3+3+3.
Division
Division is a way to split numbers into even groups. For example, 15/5 equals 3, because 15 is split into 5 even groups of 3.
Addition
Addition is a way to combine two numbers. In essence, you are counting a certain number of values up from the original number. So, 4+3 equals 7 because 7 is 3 values up from 4.
Subtraction
Subtraction is the same concept as addition, except you are moving a certain number of values down, or taking away from a number. So, 9-5 equals 4 because 4 is 5 values down from 9.