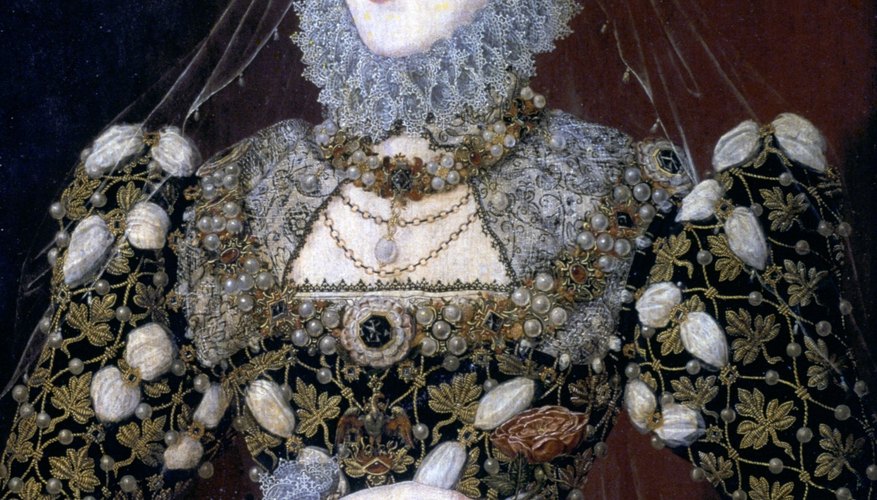 Photos.com/Photos.com/Getty Images
The Elizabethan Period encompassed the late 16th century, during the reign of Queen Elizabeth I, who ruled England from 1558 until her death in 1603. It was an era of expeditions and discovery, the time of Shakespeare, an artistic renaissance and a golden age in British history. In stark contrast, though, it was also a time when erroneous beliefs prevailed about medicine and the causes of illness. Elizabethans still used ancient and medieval curative practices. Without the germ theory of disease, established centuries later, they often blamed sickness on fallacious medical theories or other misconceptions.
Humors
Elizabethan medicine was partly based on the notion of the four "humors," a belief originating in classical antiquity. In this context, humor wasn't a reference to laughter but bodily fluids: blood, phlegm, yellow bile and black bile. The four humors were connected with personality traits. If someone's humors achieved correct balance and proportion, then that person enjoyed physical and mental health. Slight imbalances led to bad moods, while severe imbalances were responsible for physical illnesses and psychological disorders. Just enough blood, let's say, made a person cheerful and rosy-cheeked; too much blood led to obesity, gluttony and lustfulness. A surplus of a particular humor could be treated by reducing its amount in the body -- by bloodletting or the use of leeches, for example.
Elements
Related to the humor concept, the theory of elements also originated with the Greeks and Romans. Elizabethans viewed the human body as an integral part of the universe. The four elements were associated with the four bodily fluids or humors: fire with yellow bile, earth with black bile, air with blood and water with phlegm. Like the humors, the accompanying elements had to be balanced in the body to prevent disease. In Shakespeare's Hamlet, the character Ophelia is described as having "too much of water," suggesting a phlegm imbalance, making her pale, vulnerable and excessively emotional.
Astrology
Also linked with humors and elements, astrology wasn't dismissed by Elizabethans as a pseudoscience. It was an accepted, conventional medical theory taught in universities. The sun, moon, stars and planets had power over the natural world and all living things. Not only were humors associated with elements, they also correlated to certain planets and astrological signs. Therefore, an Elizabethan doctor might cast a patient's horoscope before prescribing a medicinal tonic or tincture.
Miasma Theory
Miasma theory emerged in Europe during the Middle Ages and prevailed until the 1800s, when it was supplanted by the scientific breakthrough of germ theory. By definition, miasma means "bad air" or a noxious odor that contains decaying particulate matter. In miasma theory, breathing foul-smelling air causes illness. Although malaria is a blood-borne disease carried by mosquitoes, its name derives from miasma theory; in Italian "mala" means bad and "aria" means air. Poor sanitation in Elizabethan England produced reeking air along with widespread diseases, such as bubonic plague and typhus, so miasma theory seemed plausible. In fact, bad odors do indicate putrefaction and the presence of disease-causing microorganisms. But the true source of illness -- the pathogens themselves, not their stench -- had yet to be discovered.