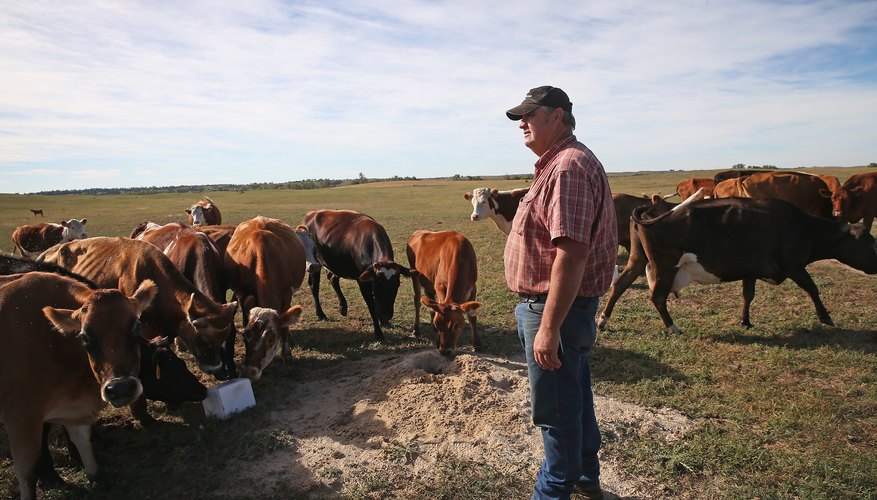 In the distant past, people survived by foraging for plants and chasing down animals for breakfast, lunch and dinner. Around 11,500 years ago, humans developed rudimentary farming concepts when they began to grow their own food in the form of root crops and cereals. Today, you and the rest of the world's population depend on agriculture and farmers to provide food, fuel, fabrics and other essentials that make life as we know it possible.
Agriculture: The Evolution
Many millennia ago, nomadic people who traveled extensively began to congregate closer to their fields. Eventually, villages linked by trade developed and sometimes became successful cities. Today, agriculture ecompasses everything from raising livestock to planting and growing crops. Farmers help sustain life by producing food for consumption, fabrics for covering, and wood for building. They also bring into existence a staggering array of essential goods, including produce, dairy products, meat, grain and cotton for fabrics.
Bring on the Money
Farming and agriculture play a key role in sustaining the U.S. economy. The American Farm Bureau Federation reports that 15 percent of the country's workers "produce, process and sell the nation's food and fiber." The U.S. also maintains a positive agricultural trade balance by exporting more agricultural products than it imports. Economies at the local, state and federal level benefit from agriculture. In addition to creating jobs and generating revenue from product sales, farming activities can produce landscapes that draw tourists to an area.
Growing Energy: Biofuel Basics
French fries can't power a city bus, but french fry oil can. Producers create a fuel called "biofuel" out of cooking oil, animal fat and other products or byproducts that farmers produce. Soybeans, corn and sugarcane are a few foods that manufacturers can use to create useful biofuels. In addition to generating electricity, biofuel -- such as ethanol -- powers vehicles, cuts pollution and reduces dependence on foreign oil. Most vehicles on the road can already use a fuel blend that contains up to 10 percent ethanol mixed with gasoline. You can also buy special flexible fuel vehicles that can burn blends that have up to 85 percent ethanol.
Benefits of Agricultural Engineering
Through agricultural engineering, producers can use technology to process and produce fuels, food and other products more efficiently. A variety of disciplines work together to make improvements possible. Plant biologists, for instance, discover new ways to plant seeds and increase plant growth, while mechanical engineers research and develop the next generation of high-efficiency machines. Goals of agricultural engineering include finding ways to conserve water and soil, improve farm management techniques, and save energy. Organic farmers seek to produce agricultural products using methods designed to prevent pest, soil fertility and other ecological problems. For instance, they may employ techniques such as applying organic fertilizers to soil and rotating crops.