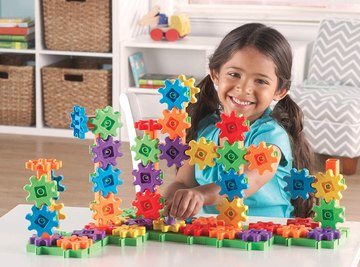 ​Disclosure: At Sciencing, we are committed to being the go-to resource for parents, students, and educators. We only recommend products we think our audience will love. If you purchase something by clicking on one of these links, we may receive a small commission of the sale and the retailer might receive some data for accounting​ ​purposes.​
No matter your family's school situation — whether you've got kids in online learning, going to school on a modified schedule, or still too young for school altogether — one thing's for sure: you and your family are spending a ​lot​ more time at home lately.
And while your kids are getting the benefits of more quality time at home, plus some of the benefits of schooling, they're missing the hands-on training that makes up a part of most elementary and middle school science programs.
The solution? Science project kits. They're fun, easy-to-perform, hands-on experiments that help your kids learn about science in an interactive environment — one that's conducive to long-term learning that'll help them on future tests and exams.
No matter what your scientific interests are, there's a kit that'll work for your family. Read on to see some of our faves.
This variety pack offers hours of fun for curious kids of many ages
For a kit that kids of many ages are sure to love, try the Learn & Climb Science Kit for Kids — 21 Experiments Science Set, Hours of Fun.
The Learn & Climb Science Kit for Kids has 21 experiments that offer versatile experiences for any young budding scientist. This kit includes easy instructions and most of the supplies you'll need, besides a few common household items like baking soda. Parents praise the included manual, which offers clear instructions for everything from growing crystals to making volcanoes.
Simple entertainment with magnetic experiments
For a young scientists, try the Learning Resources Magnetic Wands, Homeschool, Science Experiment Tools, Set of 6 Wands, Ages 3+.
When it comes to science experimentation, it doesn't get simpler than magnets, which is why this Magnetic Wand Set is the perfect option for the youngest scientists. Teach your 3 to 5-year-old child the basics of magnetism by using the wands to demonstrate polarity — and watch your young ones try to put opposing poles together against their natural repulsion.
The best kit for kids who love to build
The Learning Resources Gears! Gears! Gears! 100-piece Deluxe Building Set, STEM Construction Toy Set, Ages 3+ has all the blocks your little builder's heart desires.
If you're constantly tripping over blocks, you may have a mini-engineer on your hands! Nurture their can-build spirit with this Gears! Gears! Gears! Construction Set. It will help your child develop critical thinking skills as they work on assembling the gears, as well as boost fine motor skills they'll need for more advanced experiments later on.
This kit will let your kid have their own geological dig at home
Love gemstones? Try the National Geographic Mega Gemstone Dig Kit -- Dig Up. 15 Real Gems, STEM Science & Educational Toys make Great Kids Activities.
Science experiments can't get much prettier than this National Geographic Gemstone Dig Kit. So let your child play archaeologist and excavate 15 different gemstones and minerals from this portable "dig site." They'll learn some of the basics of archaeology from the dig, then learn the properties of each stone from the included booklet. Bonus: the gems make great decorations, too!
Beginner microscope for future doctors and vets
Does your child dream of becoming a doctor or vet? Try the AmScope 120X-1200X 52-pcs Kids Beginner Microscope STEM Kit with Metal Body Microscope, Plastic Slides, LED Light, and Carrying Box (M30-ABS-KT2-W), White.
This kit will nurture their love of biological sciences. This easy-to-use scope allows for magnification up to 1,200x, and comes with plastic slides to get you started.
Make your own volcano at home
The 4M KidzLabs Volcano Making Kit - DIY Geology Chemistry Lab STEM Toys Gift for Kids & Teens, Boys & Girls, Model: 3431 is a great option for building volcanoes.
Making your own volcano is a classic for a reason — it's fun, easy to put together, and has a big visual impact. Set up this experiment easily with this KidzLabs Volcano Making Kit. All you need is vinegar, baking soda, and the experiment kit, and you've got a chemistry (and geology) lesson that'll really pop.
Help your little one feel like a meteorologist
For learning about climate and weather, try the 4M Weather Science Kit - Climate Change, Global Warming, Lab - STEM Toys Educational Gift for Kids & Teens, Girls & Boys.
This 4M Weather Science Kit helps your child visualize and understand the science of weather. Use static electricity to make "lightning" with the kit, set up a fully functioning water cycle to help your child understand how water affects the environment, and even use the kit to explore the effects of acid rain. It's the perfect solution to bring a bit of the outside indoors during lockdown.
About the Author
Sylvie Tremblay holds a Master of Science in molecular and cellular biology and has years of experience as a cancer researcher and neuroscientist. Before launching her writing business, she worked as a TA and tutored students in biology, chemistry, math and physics.