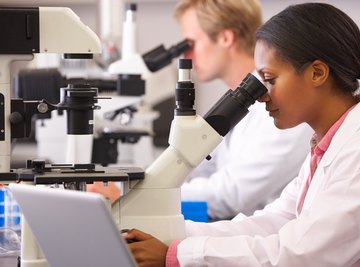 •••
monkeybusinessimages/iStock/GettyImages
Until the movie "Hidden Figures" hit the big screen, many people may not have known that black women played a significant role in the country's race to space. With the changes that have occurred since those early space days in the 1960s, NASA now has a black woman serving as its Deputy Director for Technology and Research Investment, Dr. Christyl Johnson.
She and other black women in science, technology, engineering and mathematics (STEM) know that black women face an arduous climb when choosing a career path in one of the STEM fields. Even with all the challenges and hurdles they must overcome to get a job in these fields, black women have still made significant contributions to STEM over the years.
STEM Demographics
Men held nearly three-quarters or 74.2 percent of all the 7,227,620 jobs in STEM fields, as listed in the last U.S. Census data from 2010. Women held only 25.8 percent of all STEM jobs with a total of 6.4 percent of those jobs held by both men and women of African descent.
African-Americans held 462,568 jobs in STEM. Of that figure, only 119,343 of these jobs belonged to black women. The 2010 census also reported that 70.8 percent of STEM jobs went to white people, 14.5 percent went to people of Asian descent, while 6.5 percent of all STEM jobs in 2010 belonged to people of Hispanic origin.
In the April 2010 census, the overall population of the U.S. was 308,745,528 people, with 13.3 percent or 41,063,155 of the population identifying as African-Americans. Black women in the STEM fields represent less than a quarter of 1 percent or 0.29 percent of the entire black population in the United States.
The Hurdles Black Women Face
Black women often have much higher obstacles to overcome when it comes to higher education and getting a job in the STEM fields when compared with the rest of the population. These hurdles often begin in childhood, where black women and, frankly, all women encounter resistance and prejudice in pursuing interests in STEM fields. Blatant racism and misogyny still affect young black girls in their early education years through to advanced college degrees. Society often relegates young black girls to "pink collar" careers such as secretaries and housewives that dominated the 1970s way of thinking for jobs suited to the female gender.
Famous Black Women Scientists and Their Contributions to STEM
Even with so few black women in STEM fields, those who did make it through the obstacle course have made tremendous contributions in science, technology, engineering and mathematics.
Of the women in "Hidden Figures," Katherine Johnson served as a human computer – a person who completed complicated calculations by hand – significant to John Glenn's Friendship 7 mission. She later worked on both the Apollo and space shuttle missions. Mary Jackson was the first black female aeronautical engineer at NASA, while Dorothy Vaughan taught herself how to use the IBM computer delivered to NASA and subsequently became NASA's first-ever black female supervisor.
Alice Ball, born in 1892, at the age of 20 earned an undergraduate degree in pharmaceutical chemistry and by the age of 22, earned one in pharmacy from her home state's University of Washington. Later, she became the first African-American and the first woman to graduate with a master's degree from the University of Hawaii. She later became the first black woman chemistry teacher at the University. Ball's work in the lab led to a successful treatment to alleviate leprosy symptoms, known as the Ball Method, used for 30 years until the development of sulfone drugs.
Joycelyn Elders, M.D. became the first black women to serve as the U.S. Surgeon General in 1993. As a child, Elders grew up as the eldest of eight children in a three-room cabin without the benefit of plumbing and electricity in the 1930s and '40s. Despite the hardships, she received her B.S. degree in 1952, went on to become a medical doctor in 1960, and in 1967, she received an M.S. in biochemistry. By 1978, she became the first person ever in the state of Arkansas to receive its board certification as a pediatric endocrinologist. Elders, currently professor emeritus at Arkansas University, is a strong advocate of sex education for students beginning at an early age, and she travels the country speaking on this and other topics including promotion of the legalization of marijuana.
Jewel Plummer Cobb was the first black female who served as dean in 1981 at California State University, Fullerton. At the time, she became the first black woman to head a major university. Before that, she had been dean at Connecticut College in New London and Rutgers University.
Born in 1924, Cobb's paternal grandfather became a pharmacist after receiving his freedom from slavery. Her father was a doctor, and her mother served as a physical education teacher. Passed over as president of Hunter's College in New York amid public outcry of racism and sexism, she moved to California to take the Fullerton position. A fierce advocate for women and minorities in STEM fields, she helped to increase minority enrollment while at UCF. Cobb died in 2017 at the age of 92.
These are just a few of the black women in STEM fields. If all people receive equal treatment and, in the paraphrased words of Dr. Martin Luther King, experience judgment as to the content of their character instead of the color of their skin, more black women and women overall will work in the STEM fields and make significant contributions to humankind.
References
About the Author
As a journalist and editor for several years, Laurie Brenner has covered many topics in her writings, but science is one of her first loves. Her stint as Manager of the California State Mining and Mineral Museum in California's gold country served to deepen her interest in science which she now fulfills by writing for online science websites. Brenner is also a published sci-fi author. She graduated from San Diego's Coleman College in 1972.