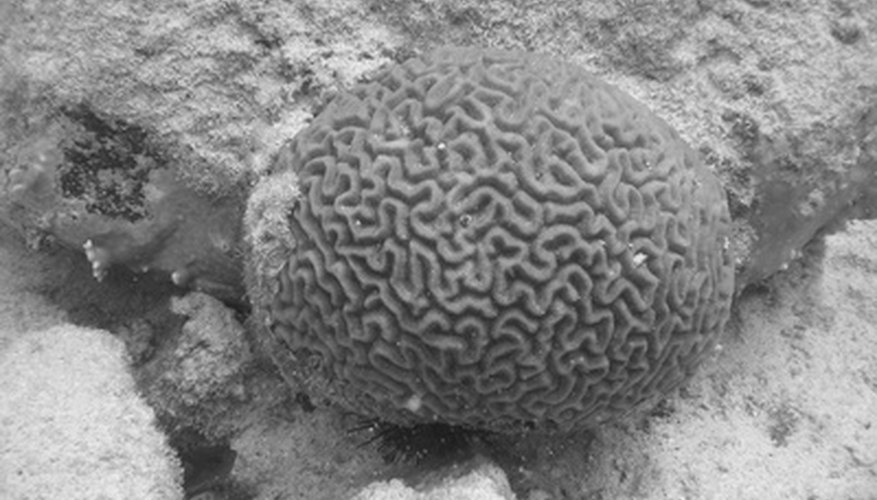 Brain coral includes several varieties of coral that are generally round or oval in shape with grooved or smooth ridges meandering across their surface so that they look much like a brain. Brain corals grow in shallow, warm water in all of the world's oceans.
Fundamentals
While brain corals look like colorful ocean-floor plants, they are actually animals. Colonies of polyps secreting a hard skeleton of calcium carbonate create the brain coral, which can live for hundreds of years. Colonies grow to as much as six feet in height, according to Sea and Sky.
The name applies to corals in the Faviidae family, which are part of the Cnidaria phylum known as "sea flowers."
The appearance of brain coral ridges ranges from flattened to folded to figure-eight shaped, according to TheSea.org.
Characteristics
The coloration of two common species of brain coral—Trachyphyllia geoffroyi and Trachyphyllia radiate—make them popular items for home aquariums, according to TheSea.org. The geoffroyi species can be found in a variety of colors and patterns, while the radiate species is metallic green. Both species become bright under the fluorescent light in home aquariums.
Most brain corals use stingers to protect their habitat and compete for food. In artificial environments like aquariums, brain corals should be given plenty of space from other corals, according to TheSea.org.
Age
Brain corals live for hundreds of years with reports of some approaching 900 years in age or more. Their skeletons hold a wealth of information for scientists to study. The Woods Hole Oceanographic Institution in Massachusetts has used cross sections of ancient brain coral to reconstruct 500 years of Atlantic Ocean climate data.
Stability
Some types of corals grow rapidly to gain new territory, but brain corals expand slowly, becoming solid, heavy and strong enough to withstand storms that can destroy more delicate coral, according to the Monterey Bay Aquarium.
The durability of brain corals, also known as stony corals, make them an important component of coral reef building, according to the Birmingham Science Museum in England.
Nutrition
Like most corals, brain corals gain nutrition from small marine animals and invertebrates that float by as well as from an algae that grows on the coral, according to TheSea.org. Polyps in the brain coral colonies stretch out from the mound to collect the food floating past them.
Threats
Brain corals are considered threatened species in many parts of the world because of the increase in pollution from growing beach communities and other sources. Contaminated water can quickly kill brain coral, according to the Birmingham Science Museum. Threats to coral health also include damage from divers or people fishing and from people collecting coral for use in aquariums or as souvenirs.
In 1996, unusually high water temperatures in the Caribbean Sea and disease caused the worst coral death ever recorded, according to news reports from that time. Scientists reported that up to one-third of the coral had died.
Warning Signs
Brain coral in aquariums should be regularly inspected to assess its health, according to TheSea.org. Bleaching, loss of color, detached tissue and weak polyp extension are all signs of problems that may require adjustments to the aquarium's water quality.