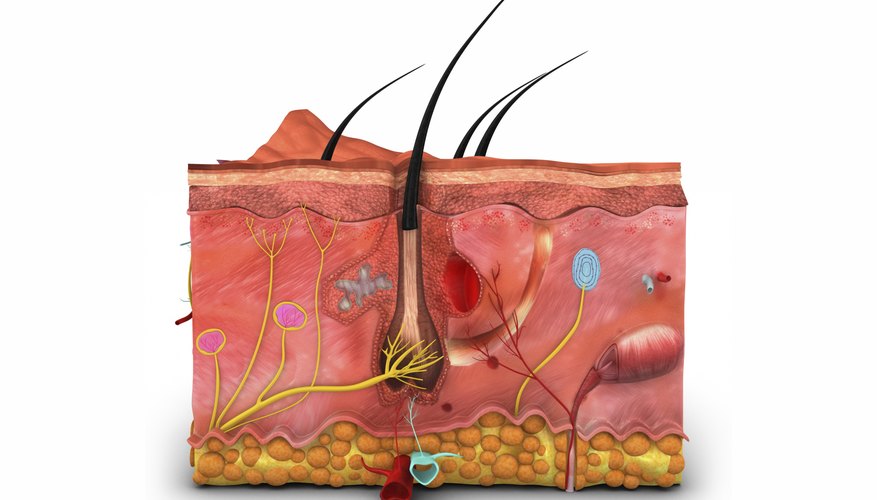 7activestudio/iStock/Getty Images
The liver, lungs and brain are all sizable organs, but your skin is actually the largest organ in your body. Covering every inch -- from your nose to your toes -- the skin plays an essential role in protecting your body from pathogens, maintaining body temperature and giving you the sense of touch. Make a model of the skin using items you have around the house.
Cut a 4-inch by 4-inch piece of flesh-colored felt to represent the epidermis. The epidermis is the uppermost layer of skin and is visible to the eye. It is the site of new skin cell generation and contains melanin -- a pigment that gives your skin its color.

Cut a 4-inch by 4-inch piece of craft foam to represent the dermis. The dermis is the middle layer of your skin and is the site of a lot of action. Sweat glands in the dermis help you to regulate your body temperature, while oil glands produce lubricant to keep your skin soft. The dermis contains nerve endings, which allow you to feel, and follicles for hair. Blood vessels run through the dermis to keep the skin healthy.

Cut a 4-inch by 4-inch piece of yellow sponge to represent the subcutaneous fat. In addition to being a storage site for fat, the innermost layer of skin attaches the dermis to the underlying muscle, contains blood vessels and helps with body temperature regulation.

Drizzle glue in an S shape on one side of the yellow sponge. Place the foam square on top and press together firmly.

Drizzle glue on the exposed side of the foam square and place the felt piece on top. Press together firmly. Allow the glue to dry for several hours.

Draw dots with a permanent marker on top of the felt square to represent pores in the skin.

Glue red and blue pieces of yarn running horizontally through the dermis, or foam, layer to represent blood vessels.

Tie a knot in a short piece of white yarn. Glue the knot to the dermis layer and glue the loose end to the epidermis layer to represent a sweat gland.

Tip

Mount your model by gluing it to a sturdy piece of cardboard. At the base of the model, write a description of each of the layers of skin, their function and features.

Warning

Do not use a hot glue gun for this project as it may melt the foam or sponge.