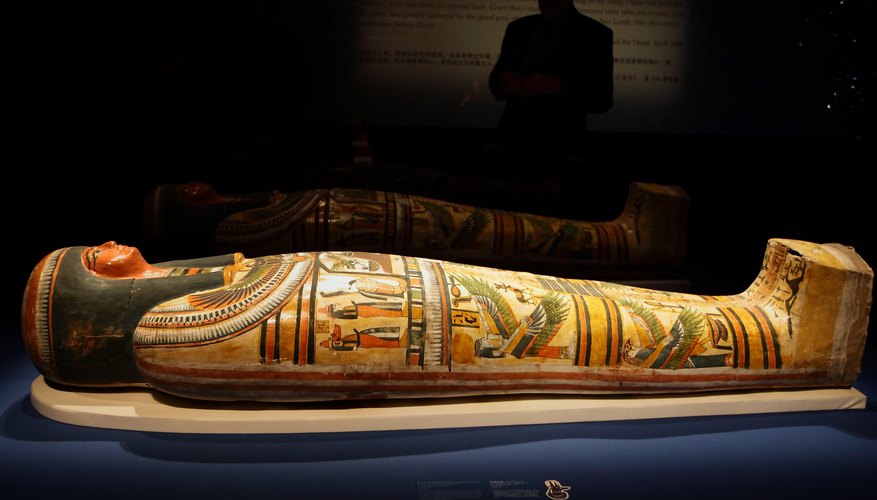 Egyptian tombs were intricate spaces that individuals and their servants spent much time creating and decorating. The tombs of ancient pharaohs took decades to complete. The intricacy and beauty of ancient tombs come alive when students create their own tombs for a school project. With materials most families already have at home, each student can create their own tomb fit for King Tut.
Cut the flaps off a cardboard box. Turn the box on its side so that the inside bottom of the box will be the back wall of the tomb.
Measure the inside walls of your tomb with a ruler. Cut white or brown paper to fit the walls of your tomb. Freehand draw an Egyptian scene from books onto the paper or print out a tomb scene.
Paint or color the Egyptian scene. Glue the decorated papers to the insides of the walls of the tomb. Allow the glue to dry.
Form three to five small lumps of clay into ball shapes. Gently flatten one side of the ball and elongate the clay lump to form a vase or jar shape. Repeat until you have several clay jars to represent the urns that would enclose the mummified Pharaoh's grave goods. Allow the urns to dry.
Tear the newspaper into 2-inch strips. Mix together the flour with 2/3 cup of water. Dip a strip of newspaper into the flour mixture, and then drape it over the outside top of the box. Repeat this process until you have covered the outer top and sides of the box. After the newspaper dries, paint the outside of the box a light, tan color to mimic Egypt's sand. Add the urns to the inside of the tomb.
Tip
You can make a sarcophagus to complete the tomb scene.