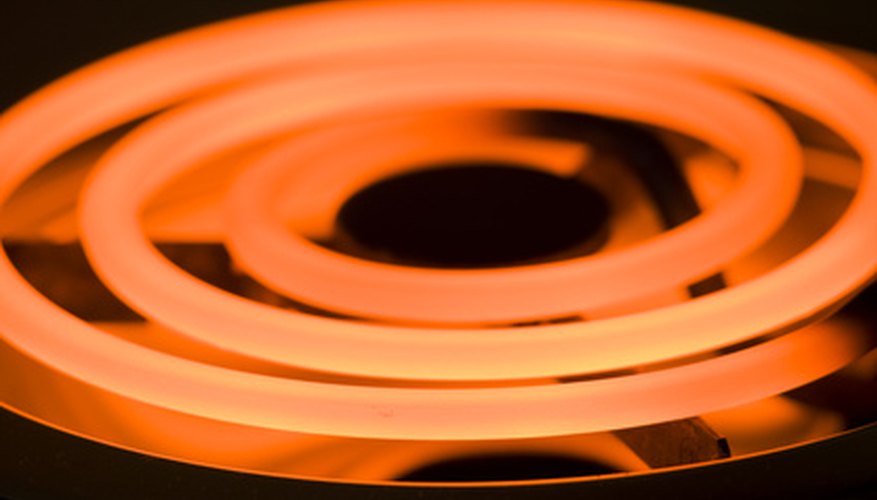 Heat absorption, also known as heat flow, heat transfer, or heat exchange is an endothermic process described by the second law of thermodynamics. The law states that thermal energy transitions from a hotter mass to a cooler mass to reach thermodynamic equilibrium. Once both objects reach thermodynamic equilibrium, or the same temperatures, the heat transfer between the two objects will equal zero. When an object is at a different temperature than its surroundings or comes in contact with another object, the cooler object will absorb the warmer object's heat. The longer an object is exposed to a heat source, the more heat will be absorbed. Different substances have a different capacity of absorbing heat.
Write down the following formula: the amount of heat transferred or absorbed Q = mass (m) x change in temperature (T) x specific heat (c). The SI units for heat transferred is joules; however, calories are still often used for problems involving water. The conversion from joules to calories is 4.18 J = 1 cal.
Determine what the specific heat c is for the object in question. Specific heat capacity or specific heat is the amount of heat it takes to raise the temperature of a substance by one degree Celsius. This quantity can be looked up from a list of specific heat values. The units for specific heat are joules per gram times degrees Celsius (J/g * °C) or calories per gram times degrees Celsius (cal/g * ° C).
Determine the change in temperature of the object caused by the absorbed heat. This can be done by taking the initial temperature T(i) of the object and subtracting it from the final temperature T(f) of the object after the heat is absorbed. For SI units temperature is usually given in degrees Celsius. For example, if an object is 10° C and it changes to 40° C after the heat absorption, then the change in temperature T = T(f) - T(i) = 40° C - 10° C = 30° C.
Weigh the object to determine its mass using a balance. It is important to record an accurate reading. The mass will affect the outcome of the heat absorption. A larger mass will cause a larger outcome for the heat transfer, and a smaller mass will do the opposite. The SI units for mass will be in grams.
Substitute all of the known values into the original equation and solve it using a calculator to determine the amount of heat absorbed by a substance. For example, if 250 grams of water have a change in temperature of 30° C and the specific heat value is determined to be 4.184 J/g * °C, then the heat absorption for the water will be Q = m * c * T = 250 g * 4.184 (Joules per calorie) * 30° C = 31,380 Joules.