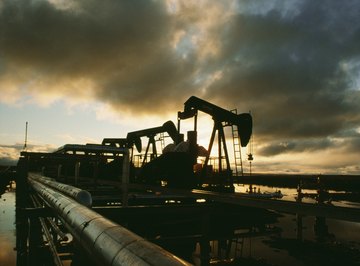 •••
Photos.com/Photos.com/Getty Images
When a pressurized gas pipeline is rapidly depressurized (i.e., the gas is allowed to flow rapidly through an open valve to atmosphere), a thermodynamic effect causes the gas to cool. This is called a throttling process or the Joule-Thomson effect. The loss of heat is a function of the expansion of the gas from a high pressure to a lower pressure and is adiabatic in nature (no heat is exchanged).
Determine the gas that is compressed in the pipeline. For instance, assume that carbon dioxide gas is in a pipeline at a pressure of 294 pounds per square inch (psi) and a temperature of 212 degrees Fahrenheit. At these conditions, the Joule-Thomson coefficient is 0.6375.

Rearrange the heat loss calculation to isolate the final temperature. The Joule-Thomson equation is μ = (T1 - T2) / (P1 - P2) where μ is the Joule-Thomson coefficient, T1 is the initial temperature, T2 is the final temperature, P1 is the initial pressure and P2 is the final pressure. Rearranging yields -μ x (P1 - P2) + T1 = T2. Assume the final pressure is 50 psi.

Calculate the final temperature and heat loss in the system. This is done by plugging in the values as -0.6375 x (294 - 50) + 212 = T2 which calculates to be T2 = 56.45. Therefore, the heat loss during depressurization is 212 - 56.45 or approximately 155 degrees Fahrenheit.
References
"Perry's Chemical Engineer's Handbook"; Joule-Thomson Effect; Robert Perry; 1984
About the Author
Brian Baer has been writing since 1982. His work has appeared on Web sites such as eHow, where he specializes in technology, management and business topics. Baer has a Bachelor of Science in chemical engineering from the University of Arkansas and a Master of Business Administration from the University of Alabama, Huntsville.
Photo Credits
Photos.com/Photos.com/Getty Images