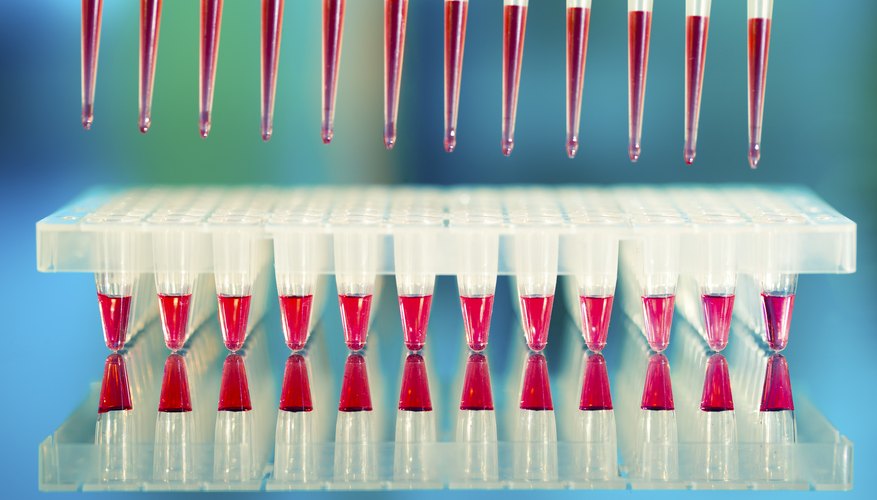 In genetics, the concept of "interference" refers to the tendency of a "crossover" between two pairs of genes to reduce the chance that one of those genes will cross over with a different gene. While simple, the basic calculation for interference involves subtracting a ratio of the observed crossover frequency to the expected crossover frequency from one. You must therefore manually calculate the crossover frequency values--also known as the "number of double recombinants"--using data, either from an experiment you've completed yourself or from a problem in your genetics textbook.
Calculate the expected frequency of double recombinants by figuring the product of the recombination data your textbook or genetics problem gives you. If, for example, your double recombination values for the traits "v-ct-cv" are .278 and .101 for "v-ct" and "ct-cv," respectively, you would calculate the expected frequency as (v-ct) x (ct-cv), or .278 x .101 = .0281. Keep in mind that this value represents the percentage of double recombinants, in the example case 2.81 per cent.
Calculate the expected number of double recombinants in your sample. For example, if your sample contains 2,015 fruit flies and your recombination percentage is 2.81, your number of double recombinants would be .0281 x 2015, or 57, keeping in mind that you must round up (or down) to the nearest whole number of individuals.
Calculate the "coefficient of coincidence," which is a ratio of the observed frequency to the expected one, the latter of which you will get from experimental data (either your own or a set your professor gives you). For example, if you observe 23 fruit flies with double recombinance, your coefficient of coincidence would be 23/57, or .40.
Calculate interference using the equation I = 1 - c.o.c, where "c.o.c" is the coefficient of coincidence. In the example problem interference would be 1 - .40, or .6. Express this number as a percentage by multiplying it by 100. The example interference is 60%.