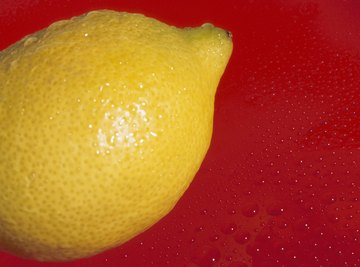 •••
Hemera Technologies/AbleStock.com/Getty Images
Chemicals can be loosely divided into two extremes: acids and bases. The pH scale measures exactly where a chemical falls between one of those two extremes. The scale measures 0 to 14; the lower the number, the more acidic a substance is. Water, for example, has a pH of 7 and is considered neutral (neither acid nor base). You can determine the pH of a chemical by using a pH indicator strip and checking the strip's color to a pH chart. For fun, measure the pH of lemon juice.
Purchase some pH indicator strips. These strips are sold over the Internet; they can also be found at hardware stores selling pool and garden chemicals.

Print or make your own pH color chart. (North Carolina State University has one available online; see References.)

Dip the pH indicator strip into a glass of lemon juice. Swirl the indicator strip in the lemon juice for about a minute.

Wait for the pH indicator strip to change color; do not let the strip dry completely.

Compare the color of the pH indicator strip to your pH color chart. Lemon juice has a pH of 2.3; it is a very acidic substance. Checking your color chart, the pH strip should be a marigold yellow to a golden yellow.

pH indicator strip
pH color chart
Lemon juice
References
About the Author
Based in Traverse City, Mich., George Lawrence has been writing professionally since 2009. His work primarily appears on various websites. An avid outdoorsman, Lawrence holds Bachelor of Arts degrees in both criminal justice and English from Michigan State University, as well as a Juris Doctor from the Thomas M. Cooley Law School, where he graduated with honors.
Photo Credits
Hemera Technologies/AbleStock.com/Getty Images