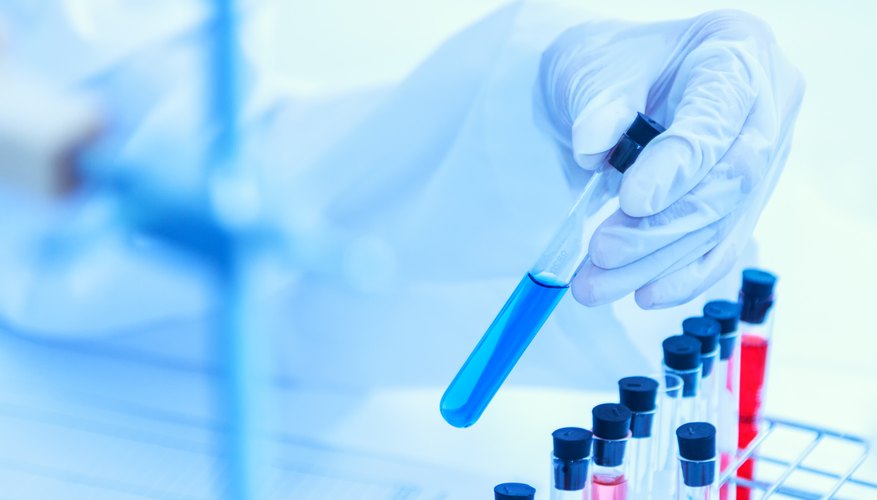 A chemical compound's molecular formula tells you, among other things, the ratio of the atoms it contains to one another and as part of the whole. For example, water's formula --H2O -- tells you that there are two hydrogen atoms for ever oxygen atom in water. It's not accurate, however, to say that water is 67% percent hydrogen, even though two of every three atoms in the molecule are hydrogens. Whether you're dealing with water or any other substance, figuring this percentage, which is considered theoretical, as it doesn't account for purity, involves a few other calculations.
Record the atomic masses of all the components of your compound from the Periodic Table of the Elements. If your substance is copper sulfate, CuSO4, record the atomic masses of copper, sulfur and oxygen--63.55, 32.07 and 16.00 atomic mass units (amu), respectively.
Compute your compound's total molecular weight using the atomic weights of its components. For CuSO4, which contains one copper atom, one sulfur atom and four oxygen atoms, figure this as follows: 63.55 + 32.07 + (4 x 16.00) = 159.62 amu.
Calculate the theoretical percentage of any component by dividing its atomic weight by the total molecular weight of your compound and multiplying by 100. For example, calculate the theoretical percentage of copper in copper sulfate as follows: 63.55/159.62 = .3981 x 100 = 39.81 percent.