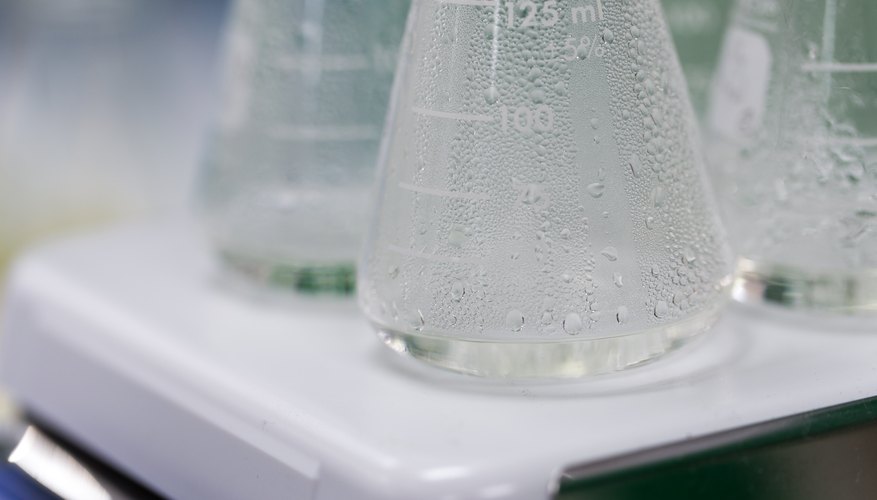 The time it takes to heat an object depends on its mass, its heat capacity and the rate at which you supply energy. Another way to describe the rate is called the power, which is measured in watts. Heat capacity just describes how much heat an object must absorb before its temperature changes by one degree. Different materials have different heat capacities; water, for example, has a much higher heat capacity than steel. Once you have the numbers you need, the calculations are simple.
Determine the mass of the object in kilograms. If you're working with numbers from a homework or exam question, you will be given this information. Also determine the rate at which heat is supplied to the object -- it will be given to you in watts (just like the power listed for your microwave). For an example, imagine you have 1 kilogram of water and supply power at the rate of 100 watts.
Using the tables under the Resources section, look up the heat capacity for the substance the object is made of. The first table is for liquids, the second for solids. Use the figures in the left-hand column for kJ/kg K. If the substance is water, for example, the heat capacity is 4.19 kJ/kg K.
Subtract the object's starting temperature from the final temperature (the temperature you want it to attain). This will give you the change in temperature. Make sure that you convert to Celsius before you do so.
Example: Imagine the starting temperature is 20 degrees Celsius and the final temperature is 60 degrees Celsius. The change in temperature is 60 - 20 = 40.
Multiply the change in temperature by the mass and the specific heat capacity.
Example: 40 degrees change in temperature x 4.19 kJ/kg K x 1 kilogram = 167.6 kilojoules (167.6 thousand joules).
Divide this number by the number of watts to get the length of time in seconds needed to heat the object.
Example: 167,600 joules / 100 watts = 1680 seconds. 1680 seconds / 60 seconds per minute = 28.9 minutes.