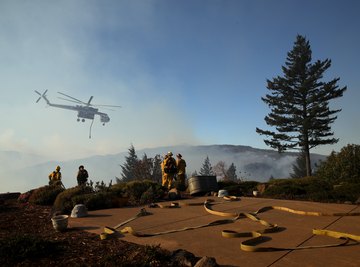 •••
Justin Sullivan/Getty Images News/GettyImages
California is on fire again, and the unrelenting flames, power outages and forced evacuations are upending the lives of hundreds of thousands of residents and leading the governor to declare a statewide emergency.
Different fires are raging throughout the state. In the north, the Kincade Fire is already the most devastating one in the history of Sonoma County, forcing 200,000 people from their homes. In the Los Angeles area, the Getty Fire is threatening a densely populated area, and Santa Clarita has closed schools due to air quality concerns after getting hit with the Tick Fire. This map from the California Department of Forestry and Fire Protection can also give you a better look at the fires.
Unfortunately for residents and for the crews working tirelessly to extinguish the flames, the weather conditions are just right for the fires to blaze on. Winds with speeds as high as 80 miles per hour are expected to hit Los Angeles County on Tuesday, and some as high as 60 miles per hour may hit in the northern parts of the state. Known as the Santa Ana winds and the Diablo winds, they pose a giant threat as they can cause fires to spread quickly or blow fiery debris to start new fires. Plus, low humidity is expected, leading to dry conditions that make the flames even more relentless.
Daily Life Upended
Fires have already forced hundreds of thousands of people to evacuate, including high-profile residents like LeBron James. Additionally, nearly 2 million people will have to go without power in their homes, some of them potentially for days. Pacific Gas & Electric again decided to preemptively cut the power of customers in affected areas in an effort to minimize the risk that power lines can pose.
The outages are forcing places like hospitals to make tough decisions, as their backup power sources can't always handle everything. Some have had to take measures including sending vaccines to sister clinics since they didn't have enough power to keep them refrigerated, highlighting the precariousness of the state's health system.
And there are concerns beyond burnt property and power outages. Officials are worried about air quality in the Bay Area especially, and are urging people to stay inside and avoid the dangerous smoky air, which can cause respiratory issues and lead to longer-term damage like lung disease.
'Only The Beginning'
In an interview with Politico, former California Gov. Jerry Brown warned that the current blazes are "only the beginning" of the horrors that await in the coming years as the climate crisis worsens.
He and other public leaders are calling for systemic changes including making the switch to alternate and more sustainable power sources, building a more efficient grid that includes more underground power lines, fixing a housing crunch that has forced Californians to live in risky areas, launching better education campaigns to stop residents and tourists from starting fires (since humans now spark 84% of wildfires) and even trying controversial tactics like controlled burns.
If you're a California resident, you can contact your representatives to let them know you think they should focus on policies that can prevent future fires from raging, and if you or someone you know is affected by these fires, check out this resource page from the California Wildfires Statewide Recovery Resources.
About the Author
Rachelle Dragani is a freelance writer based in Brooklyn with extensive experience covering the latest innovation and development in the world of science. Her pieces on topics including DNA sequencing, tissue engineering and stem cell advances have been featured in publications including BioTechniques: the International Journal of Life Science Methods, Popular Mechanics, Futurism and Gizmodo.