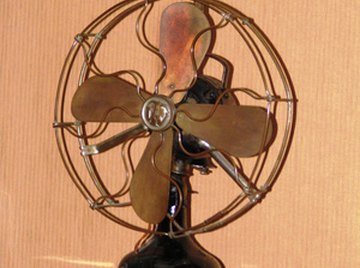 An electric motor is essentially a coil of wire spinning inside a magnetic field. In certain motor types, carbon brushes conduct power to the spinning coil through contact with a commutator, which "commutes" (sends) power to the coil.
Brush Function
Motor brushes remain stationary as the motor turns. They contact the commutator, transferring electricity to the commutator. The commutator is segmented with each segment corresponding to a different coil. As the rotor turns and commutator turns the brushes contact different segments, one at a time.
Brush Wear
When the motor is turning, the brushes and the commutator continuously come in and out of contact because the commutator is segmented. This places wear on the brushes in addition to the friction of sliding on the commutator.
Electrical Contact
The brushes must contact the commutator or the motor will not function. Attempting to lubricate the brushes with grease would cause the brushes to lose contact with the commutator. Graphite, a form of carbon used for lubrication, provides the main ingredient in motor brush manufacturing making other lubricants unnecessary.
References
About the Author
Michael Logan is a writer, editor and web page designer. His professional background includes electrical, computer and test engineering, real estate investment, network engineering and management, programming and remodeling company owner. Logan has been writing professionally since he was first published in "Test & Measurement World" in 1989.
Photo Credits