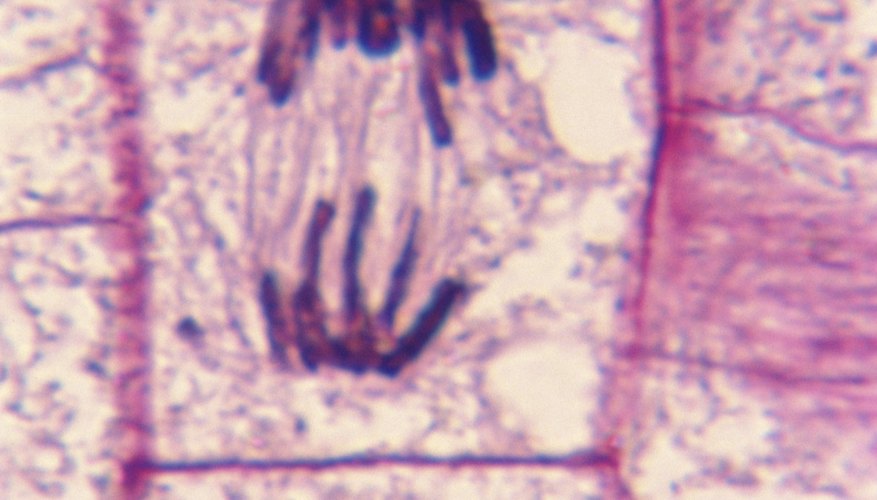 Jupiterimages/Photos.com/Getty Images
Meiosis is the process that produces reproductive cells called gametes. In animals, gametes are the sperm and egg that fuse upon fertilization to form a single zygote cell that will develop into an organism. When meiosis goes wrong, it can result in gametes that have more or fewer chromosomes than they should. Human gametes normally have 22 upaired nonsex chromosomes and one unpaired sex chromosome, and a normal human zygote has a total of 23 paired chromosomes. When an abnormal gamete fuses with another to form a zygote, the resulting individual can have many abnormalities, which may be mild or severe.
Trisomy
A person with trisomy has three of the same chromosomes in their cells, when they should normally only have two. Trisomy results in an extra copy of the genes on that chromosome, which can cause problems for the organism. A well-known trisomy condition is Down syndrome, in which patients have three copies of chromosome 21. Down syndrome patients suffer from intellectual disability, modified facial characteristics, such as shape and spacing of the eyes, and have an increased risk of hearing and vision problems, according to the U.S. National Library of Medicine. Other trisomy conditions in humans include trisomy 13 and trisomy 18.
Turner Syndrome
Turner syndrome occurs when a woman, who normally has two X chromosomes, has only one X chromosome. Afflicted women are short, have a distinctive web neck due to extra skin, and lack secondary female characteristics, such as breast development. They are infertile because their ovaries do not develop normally. They have slight mental retardation and a higher than normal risk for thyroid disease, heart defects, diabetes and autoimmune disorders. Treatment with estrogen during puberty can help these women appear relatively normal, according to Dennis O'Neil of Palomar College.
Triple-X Syndrome
Triple-X syndrome, or trisomy X, results when a sperm that has one X chromosome fuses with an egg that has two X chromosomes. The XXX individual is tall and slender. Her physical female characteristics are normal, but the ovaries may fail prematurely. Afflicted women are at increased risk for learning disabilities and are often below average in intelligence. They can have three X chromosomes, but some have four or five X chromosomes. Triple-X patients are referred to as "super-females" or "metafemales," according to Dennis O'Neil of Palomar College.
Extra X or Y in Males
Normal men have one X chromosome and one Y chromosome. Due to faulty meiosis, an egg with two X chromosomes can fuse with a sperm that has one Y chromosome. The resulting person is XXY and suffers from a condition called Klinefelter syndrome. Klinefelter males tend to have a feminine body structure and enlarged breasts due to low testosterone, according to the U.S. National Library of Medicine. Adults with this syndrome are at increased risk for breast cancer and autoimmune disease. Another male syndrome due to faulty meiosis is the "super-male" XYY syndrome. XYY males are tall and usually have normal health, but may suffer from severe acne during adolescents because they produce high levels of testosterone, according to Dennis O'Neil of Palomar College. The U.S. National Library of Medicine indicates XYY males have an increased risk of learning disabilities and may experience delayed motor development.