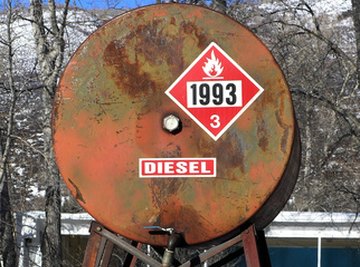 •••
old diesel tank image by charles taylor from Fotolia.com
Diesel fuel tanks can be stored inside buildings under the right conditions, and doing so can slow fuel degradation. Federal regulations address concerns such as maximum quantities and fuel transfer methods in workplaces.
Hazards
According to the Occupational Safety & Health Administration (OSHA), diesel fuel has a lower flashpoint than gasoline, meaning it does not ignite as readily. However, diesel can still be a fire hazard if stored improperly.
Conditions
OSHA regulations permit a maximum of 60 gallons of diesel fuel to be stored inside a single storage room. Additionally, transfer of the fuel must occur in a ventilated environment by approved methods, such as from the top of the indoor tank, through closed pipes or via a self-closing valve.
Fuel Degradation
Storing diesel tanks indoors helps protect the fuel from environmental degradation due to conditions like high temperatures and moisture. Diesel absorbs moisture from the air, and a tank that is too large will result in condensate mixing with the fuel. Regular removal of dirt and water will extend diesel life, according to BP (British Petroleum).
References
About the Author
Lexa W. Lee is a New Orleans-based writer with more than 20 years of experience. She has contributed to "Central Nervous System News" and the "Journal of Naturopathic Medicine," as well as several online publications. Lee holds a Bachelor of Science in biology from Reed College, a naturopathic medical degree from the National College of Naturopathic Medicine and served as a postdoctoral researcher in immunology.
Photo Credits
old diesel tank image by charles taylor from Fotolia.com