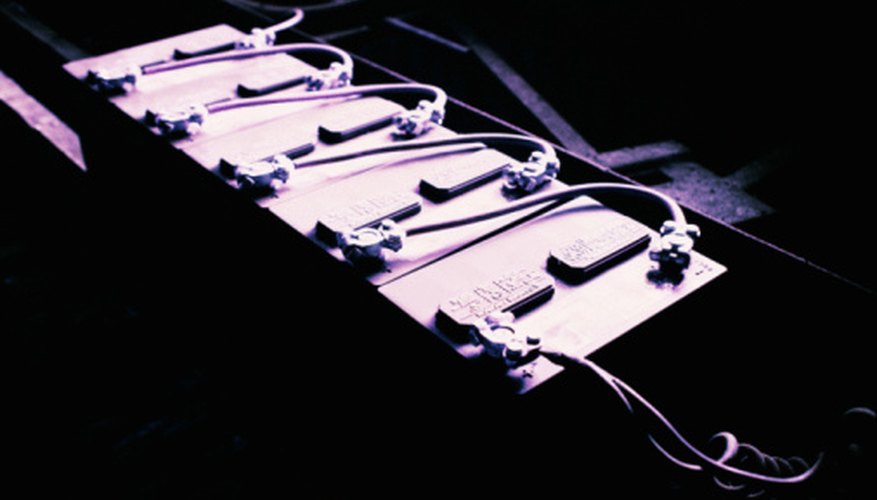 Jupiterimages/Photos.com/Getty Images
A battery is made up of one or more electrochemical cells. Each of these electrochemical cells produces a voltage differential, which can be harnessed to do work. Many rechargeable batteries can be safely charged alone. You charge two or more six-volt batteries at the same time if the batteries are wired in series as long as you take the proper steps.
Battery Construction
While some batteries are made up of a single electrochemical cell, many batteries are composed of several electrochemical cells connected in series. This allows the battery to produce a higher voltage differential.
Primary-Cell vs. Secondary-Cell Batteries
When the electrolyte in a battery reacts with the electrodes, a voltage differential is created across those electrodes. The electrolyte combines with the electrode material, and over time, the voltage differential diminishes. With some types of batteries -- such as alkaline batteries -- the electrochemical reaction cannot be reversed. These are primary-cell batteries. Primary-cell batteries can be used until the charge becomes too weak and then must be discarded. For other types of batteries -- such as lead-acid batteries -- the reaction can be reversed by applying voltage to the electrodes. This process is called recharging. Many secondary-cell batteries can be recharged hundreds, if not thousands, of times before the battery requires replacement.
Charging Two Six-volt Batteries Connected in Series
If two batteries are connected in series with each other, the voltage differential will be equal to the sum of the voltage differential of each battery. Therefore, two six-volt batteries wired in series will produce 12 volts. Similarly, if you wish to charge two batteries connected in series, the charging power source must have a voltage equal to or slightly greater than the total voltage of the batteries. If you wish to charge two six-volt lead-acid batteries, for example, you would need a charging voltage between 12.6 and 14.4 volts.
Warning
Do not attempt to charge the batteries if one battery is rechargeable and the other isn't. Attempting to do so will pose a fire or battery leakage hazard.