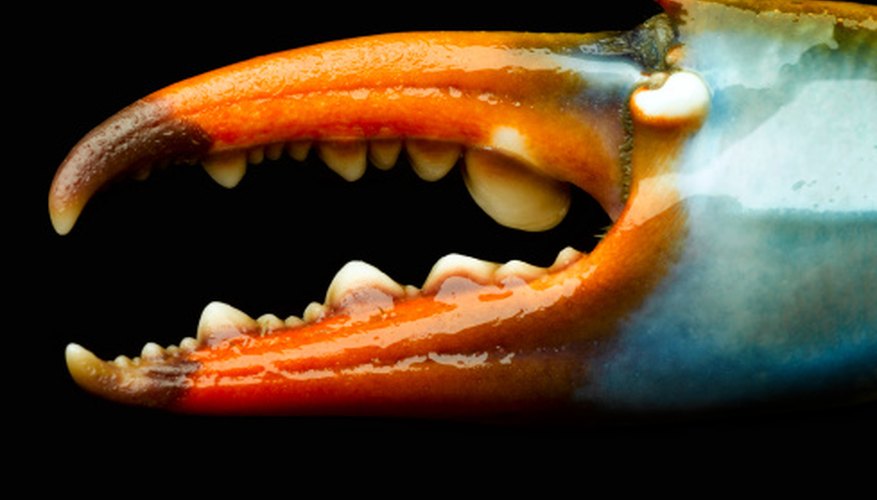 Jeffrey Hamilton/Lifesize/Getty Images
Florida regulates both commercial and recreational fishing for blue crabs in the state. Beyond getting a license, you should become familiar with the regulations before trying to catch blue crabs in Florida.
Get a recreational saltwater fishing license if you plan to catch blue crabs with anything more than a fishing line from the shore. Go to the Florida Fish & Wildlife Conservation Commission website. Hover your mouse over the "Licenses & Permits" tab in the top navigation and click on "Hunting & Fishing" when the drop-down menu appears. Click on "Apply Online" from the left-hand navigation to start the process.

Familiarize yourself with some of the regulation for blue crabbing in Florida. Among them are a limit of five crab traps per person and a daily limit of 10 gallons of whole blue crabs. Also, it is illegal in Florida to harvest females that have eggs stuck to them.

Fish for blue crabs in Tarpon Springs or the nearby Anclote River. The causeway to the Skyway Bridge near Tampa is another good spot for blue crabbing. If you are going to fish for blue crabs from a boat in Florida, look for waters that are fairly high with higher tides.

"Catch" some blue crabs at the annual Blue Crab Festival in Palatka. It's really not fishing, of course, but nevertheless attending this Memorial Day weekend event is easier than getting a license, finding a good spot and setting traps. The festival features a seafood cook-off, boasting some of the tastiest seafood chowder and gumbo you'll find in Florida.