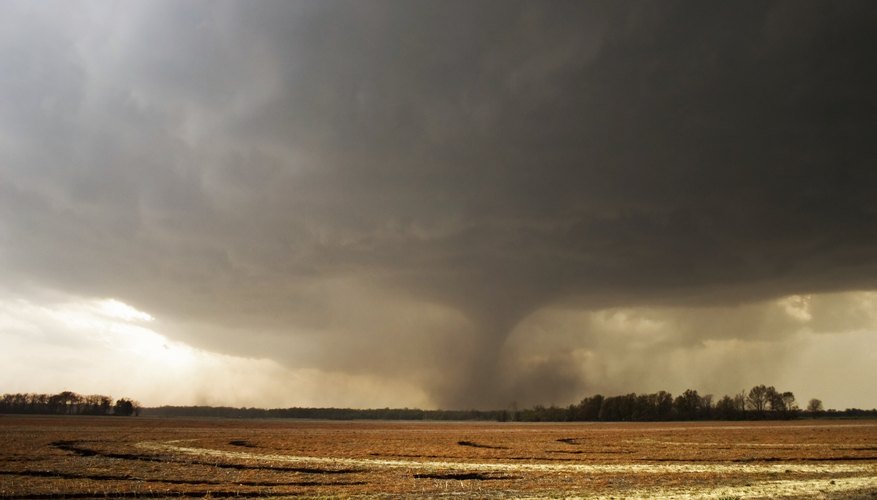 A large thunderstorm that encounters certain atmospheric conditions can produce tornadoes, the large, fast-moving funnels of wind that cause damage and deaths annually in America. Tornadoes can appear in groups, but even one can leave devastating effects in a very short time. Some have destroyed entire small towns in minutes.
Tornado Formation
Tornadoes form in conjunction with thunderstorms in places where there is moist, warm air ahead of easterly-heading cold fronts. They tend to form in the winter and early spring in the central and southern United States, and in the summer in northern states. Tornadoes are also common along the front of the Rocky Mountains, the southern High Plains and the Texas panhandle where air close to the ground flows upward to higher terrain. These conditions increase wind speed when the wind changes direction in a storm. This leads to an invisible, horizontal spinning effect that is tilted vertically by rising air, forming the tornado.
Signs
A funnel cloud extending down from a wall cloud is the sure sign of a tornado, but there are other visual clues that one may be forming. The wall cloud itself is one. The skies will turn a dark, often greenish color around thunderstorm cells powerful enough to produce a tornado. The same storm will produce larger than normal hail and rain bursts. If a loud roar akin to a freight train can be heard along with these other signs, with no train in sight, a tornado is in proximity.
Beginnings
Oftentimes, tornadoes form within the hail and strong winds from the thunderstorms they accompany and can't be seen right away. Until they grow in strength and begin picking up debris, tornadoes can be nearly transparent to the naked eye. If the tornado forms over water, the tornado will take the form of a waterspout. This is common in states along the Gulf Coast of the U.S.
Tornado Types
About 70 percent of all tornado formations are considered "weak," with winds that reach 110 mph or less. These tornadoes last for one to 10 minutes and account for less than 5 percent of tornado deaths. Strong tornadoes have winds that reach between 110 and 205 mph, and make up nearly 30 percent of all tornadoes. They can last 20 minutes or more, and contribute up to 30 percent of all tornado deaths. Violent tornadoes make up only 2 percent of all tornado occurrences, but they are responsibly for the majority of tornado fatalities. Violent tornadoes can stay on the ground for more than an hour with winds in excess of 250 mph.
Effects
Most of the structural damage done during a tornado is due to the high wind speeds and the debris those winds toss around. For example, a strong or violent tornado can uproot objects as large as trees and send them flying through the air like missiles. A brief tornado touchdown may leave as little as a few yards of damage. A big tornado that stays on the ground can leave a path of destruction over 50 miles. The 2007 tornado that destroyed 95 percent of Greensburg, Kansas was just under 2 miles wide and produced winds of 205 mph. The storm killed 11 people and left 800,000 cubic yards of debris. Greensburg's efforts to rebuild itself as an eco-friendly town were the focus of a cable TV series called "Greensburg."