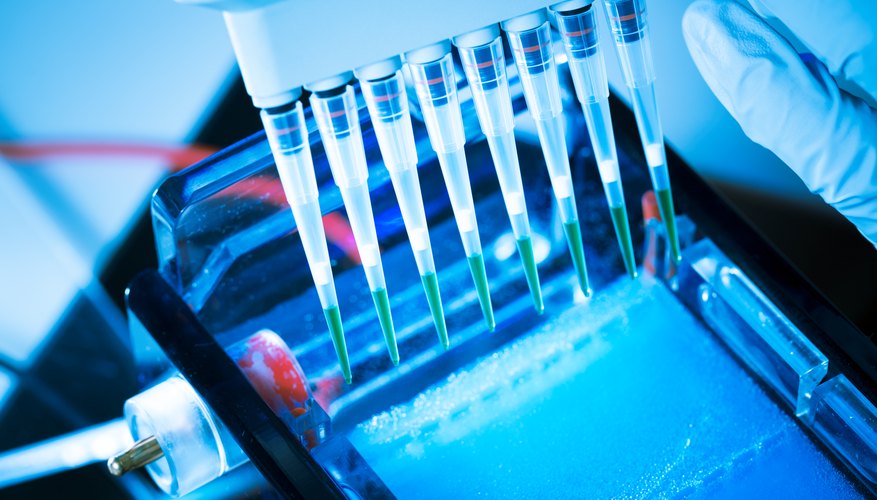 Gel electrophoresis is a technique that is used to separate and analyze molecules. This technique uses an electrical current to separate molecules based on their size and molecular charge. This process can be used on molecules such as nucleic acids (both DNA and RNA) and proteins. If done correctly, when electrophoresis is complete, there will be a row of well-defined bands in the gel. However, some errors can cause smearing, and the bands will not be distinguishable.
Gel Improperly Prepared
Smearing can be caused by an improperly prepared gel. According to Rice University, if the gel is not poured correctly, it will not polymerize or solidify evenly, thus causing the molecules to smear.
Overloading the Wells
The sample of the molecule is placed into wells at one end of the gel. If these wells are filled too much, or if the sample is not properly diluted, the excess sample may smear across the gel. In addition, if the gel is moved after the sample is placed in the well, it can cause the sample to spill out of the well. This can also cause smearing.
Improperly Prepared Sample
When preparing the sample of protein or nucleic acid, it is broken down using an enzyme that cuts the molecule in specific locations. According to "Restriction Digestion/Gel Electrophoresis," if this is not done correctly, the enzyme may break down the molecule too much, resulting in smearing. In addition, choosing an incorrect buffer or temperature may also cause the enzyme to function improperly, causing smearing.
Contamination
According to "Nucleic Acid Gel Electrophoresis," another cause of smearing is contamination of the sample. For example, a DNA sample may be contaminated with a protein, or a protein sample may be contaminated by lipids or fats.